Step it up at Diddlyi
Ning Network Spotlight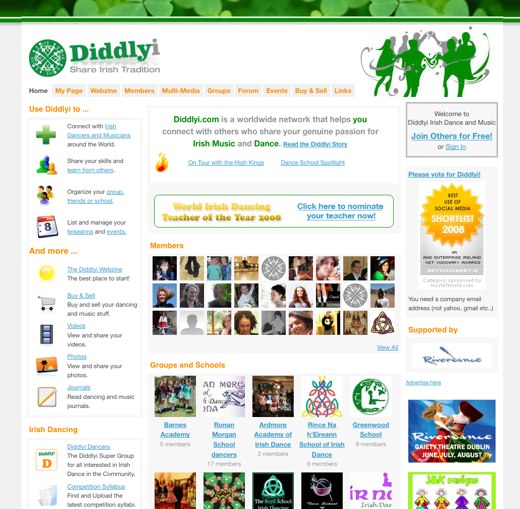 Diddlyi was created to connect people who share a genuine passion for Irish Music and Dance. In the process, an amazing social network was born. Regardless of your background or knowledge of Irish Music and Dance, Diddlyi is a must see — now more than ever.
Diddlyi has been nominated for a "Best Use of Social Media Award" and they need your help! After just one visit to their network, I am hooked. My favorite feature is their "Webzine" page where members can scroll through the large collection of music and dance resources. The music section offers a combination of live performances, audio pieces and sheet music while the dance section displays costume, dance schools and tour reports.
The network's groups are also impressive — 206 total and counting! They are displayed in one of three categories: Schools, Dancers and Musicians and connect members by specific interest or location. On top of these features, Diddyi has weekly polls, a Buy & Sell section and 26 upcoming events. Just a few more reasons why you should step on over to Diddyi and contribute your vote!