The urban life at My Modern Metropolis
Ning Network Spotlight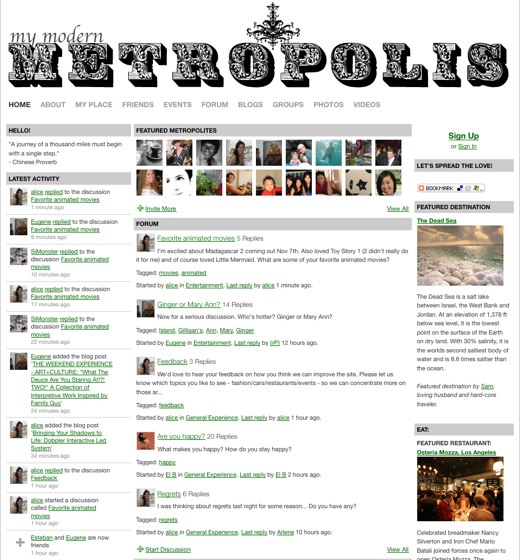 One of my favorite parts of living in an urban area is the constant juxtaposition of what's happened in the past and what's happening today. Old, historical buildings are contrasted against gleaming, all-glass condos. Classic restaurants from the turn-of-the-century sit next to the newest in fashionable cuisine. I was thinking about this contrast when looking at My Modern Metropolis. With its vintage-inspired header and sleek, modular design in grays and blacks, it's perfectly designed to highlight the wonderful aspects of contemporary city life.
Network Creator Alice Yoo started the network to focus on five areas: upcoming events, great restaurants, design hotels, new music and modern art. "Life can get busy, we totally get that," she writes on the About page. "But if we can make you smile or get you to experience life in a new way or, at best, inspire you, then our journey here has been totally worth it."
The members of My Modern Metropolis are posting blogs on some of my favorite topics; art and design, travel and my personal favorite, food and drink. If you'd rather do than read, the events section features some amazing upcoming events for the urban trendsetter. I'd love to attend the Domino Magazine Bazaar this weekend or stop by Muse Costume Ball at the Los Angeles County Museum of Art.
Urban life can be fun, but it isn't always easy to find the newest and hippest restaurants, galleries and events. Think of My Modern Metropolis as that in-the-know friend who has impeccable taste, and it always up for a new adventure.