Uncover your voyage
Ning Network Spotlight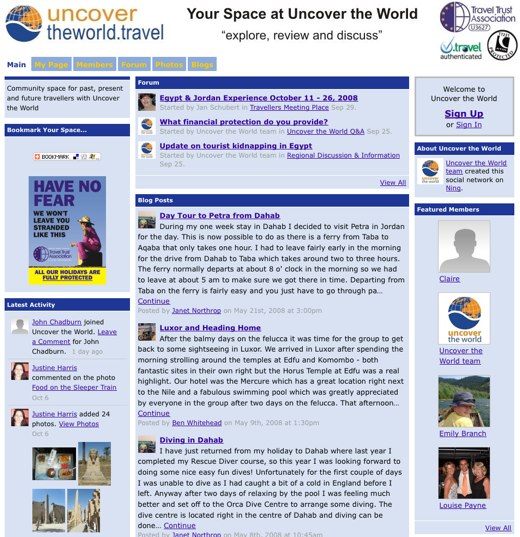 Have you ever woken up not knowing which country you were in? This is oddly my favorite feeling — I guess I am addicted to traveling. Like most people, other tiny details (like school, work or family), often take priority over my ambitious travel plans. If you can't live a nomad-style life year-round, head to Uncover the World to get your daily fix.
The network was created for past, present and future Uncover the World travelers; however, all travelers are welcome! Find out about up-and-coming destinations, action-filled itineraries and featured hotels. Not sure where to plan your next travel adventure? Scroll through the photos where the Luxor Temple, Khan Bazaar and Everest Base Camp are just a click away.
Once you've narrowed down your search, check out the blogs where members discuss their latest travel plans. Whether your trip takes you to Egypt, Thailand or Nepal, make Uncover the World the first stop on your next voyage.