Your Dream on Stream
Ning Network Spotlight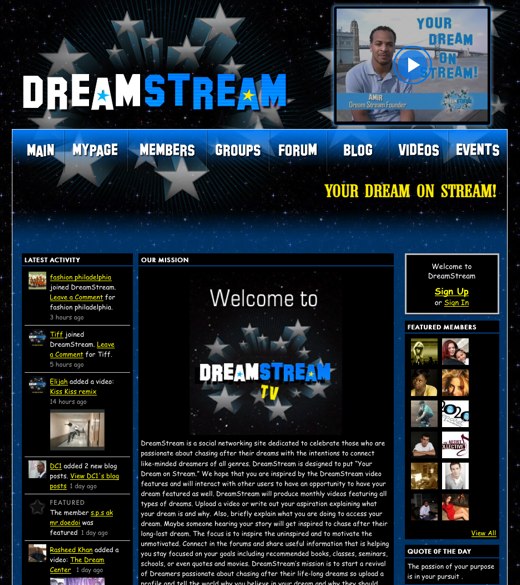 Dreaming big has often been labeled a childhood pastime. The reality is, most people pack away their dreams with the cartoons and storybooks that sparked such lofty goals. This is where DreamStream steps in!
The first step: put "your dream on stream". Once your goal is in writing, you can connect, share, learn and ultimately, make it happen. The network's feature of the month shows just how these dreams can become a reality. This months feature connects Grammy award-winning producers, Dre & Vidal, with an aspiring young producer. Check out the video and learn from the duo known for their work with Micheal Jackson, Ciara, Usher and Will Smith. Remember to tune in for next months feature where DreamStream travels to Portland, Ore. to interview Howard "H" White, the VP of Nike/Jordan Air Brand.
After watching fellow dreamers achieve their goals, head to the forum to put your plan into action. While popular discussions focus on encouraging others and pursuing dreams, my favorite discussion is "What we can (& can't) learn from Olympians".
Further resources, encouragement and support can be found throughout the network. Even if childhood storybooks and movies remain in your past, the dreaming, goal setting and risk taking never have to stop with DreamStream on your side.