Adult Disney fans unite at Disfriends!
Ning Network Spotlight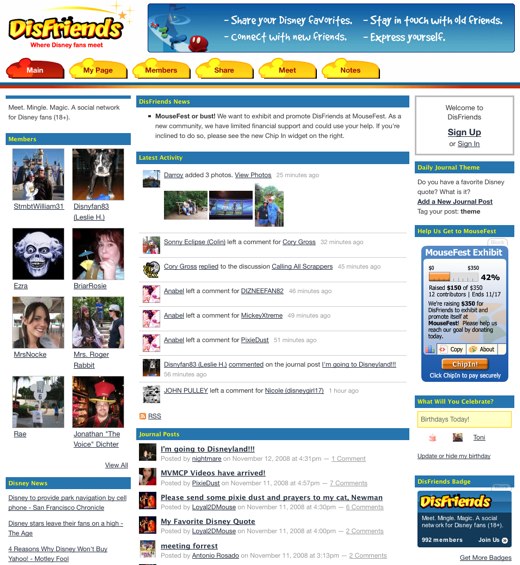 Being old enough to vote doesn't mean that you're no longer allowed to like Disney. And if you're an 18+ Disney fan, DisFriends is the network for you. Classic Disney themes in the music player on the main page, vacation photos of members at Disneyworld and Disneyland, and videos of joys like the Main Street Trolley Parade at the Magic Kingdom all await to make you smile.
Under all of the fond memories also lies a warm and involved community, posting about their good times (including a happy blogger writing "I'm going to Disneyland!!!") and their bad (stop by add add a kind word on behalf of this member's cat – he'll thank you for it). You can find plenty of groups, too — if you're a particularly huge fan you can even find a group dedicated to planning Disney Weddings!
All the wonder of the theme parks and movies can be found at Disfriends, and if you particularly fall in love you can even volunteer to be a staffer for the network! So get going — Mickey Mouse himself wants you to visit!