Bringing art to you with Daily Modern
Ning Apps
People Profiles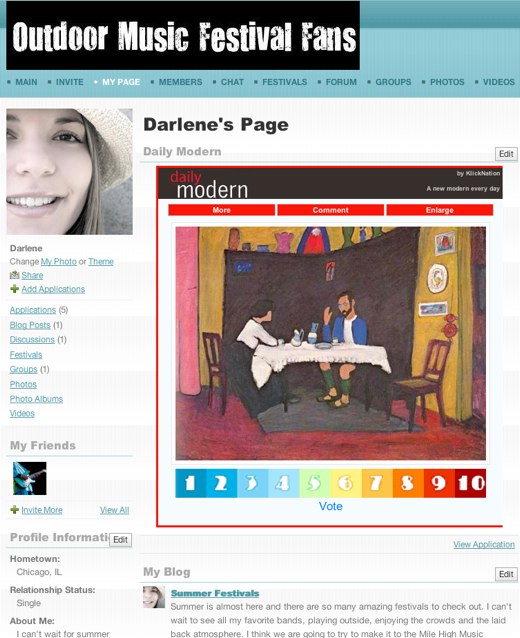 From the Tate Modern to SFMOMA, modern art exhibits have gained popularity around the world. If your travels can't take you to the finest art, add Daily Modern, an OpenSocial application, to your network on Ning! Each day a new piece is added for you to rate and discuss right from your profile page.
Find out how your favorite paintings do or just sit back and enjoy selection. Read on to meet the team behind the OpenSocial application in our recent interview with Daily Modern developer Ken Walton.
How would you describe Daily Modern in a nutshell?
Daily Modern displays a different painting from the modern era (everything from post-Impressionism to Pop Art) on your profile every day. Vote on your favorite paintings and discuss them with other art-lovers.
Where did you get the idea for Daily Modern?
We run a lot of different daily photo apps that focus on different topics — everything from puppies to bikini models. My personal interest in modern art led to Daily Modern, and I thought some social networkers might want something more thought-provoking and striking on their profiles.
What is your favorite aspect of the application?
I enjoy scouring the web for good examples from different schools of 20th-century art. I also like user comments in Daily Modern. It attracts a much different crowd than our other apps.
What would you say to someone who wants to create an application?
Create something you'd like to use yourself. You will succeed (and enjoy yourself) only if this is the impetus for your work.
Oh, also: know Javascript.
Do you have any advice for Daily Modern users?
Enjoy the app, and don't be shy about commenting if you have something to say. And try our other apps on Ning: PuppyPix and LOL Cats.
Tell us more about yourself and where you are from.
I am the VP of Business Deveopment for KlickNation, and live and work in San Francisco. The rest of our small team, including our founder and CEO, Mark Otero, works out of our Sacramento headquarters. We were founded in the fall of 2007 and have more than 30 applications running on 8 different social networks.