Building a bridge to understanding
Ning Network Spotlight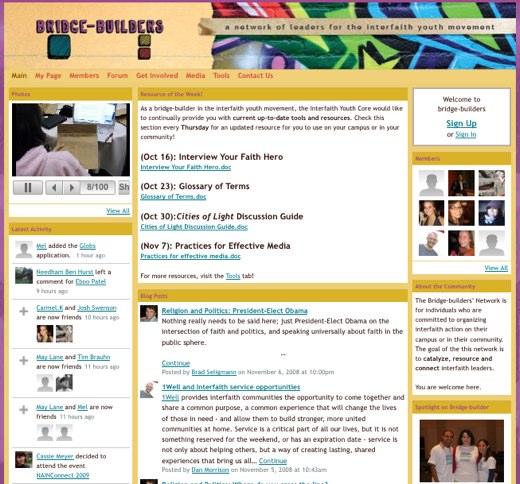 There are few topics you can bring up at the dinner table that are more divisive than religion, but it doesn't have to be that way. Bridge-Builders is a social network for leaders of the interfaith youth movement. The goal of the network is to catalyze, resource and connect interfaith leaders from campuses and communities across the country.
In addition to offering forums, blog and other features, the Network Creator has done a great job of making Bridge-Builders a resource for its members. Each week, a different resource is promoted, and additional material is available on the Tools page. Additionally, fellowship opportunities and featured members are highlighted on the main page. Interviewing a featured member and posting that interview is simple yet effective way to highlight those members of your network that are most active.
Not surprisingly, the religion and politics of the president-elect are on the minds of the members of Bridge-Builders. Other members are blogging about the idea of the class of civilizations and how this plays out on a smaller scale in our everyday lives.
Talking about religious can make people feel uncomfortable, but the members of Bridge Builders know that it's only through collaboration and communication that change is made. If you want to get involved in promoting interfaith understanding, then start building that bridge, when you join the network!