Creativity grows at Visual Artists Forum
Ning Network Spotlight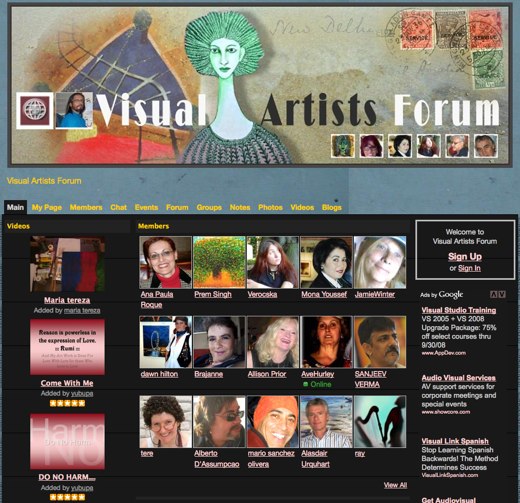 When you started out finger painting as a kid, did you feel yourself channeling an inner talent that you've used to this day? Or, do you just like art? The Visual Artists Forum network delivers.
The Visual Artists forum also brings out unique and rich interactions between its members, like this literally poetic self-introduction by a new member that's graciously received. Everyone's out to help each other, in ways as simple as taking the time to post opportunities to share your art and as complex as describing research into easy and economical ways to copyright your work.
Of course, this all goes along with the posting of some truly incredible art. Particularly worth seeing is the recent Daily Keemo series, with a new and interestingly stylized piece each day on the blog with a story to go with it! You'll even find some members posting pieces for sale, so you can add a little more decoration to your home.
Whether you're an art creator or art appreciator, or paintbrush virtuoso or enthusiastic amateur, you'll find a lot to make you smile at the Virtual Artists Forum. Visit for support in your own endeavors, and visit to be amazed by the truly incredible oeuvres of the current members.