Discover your roots at The Crossroads
Ning Network Spotlight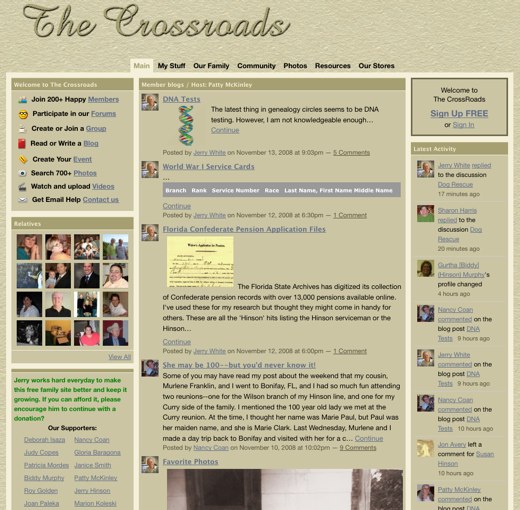 Interested in learning where that English, Dutch or other part in you comes from? You know, the one that your mom was always talking about at family reunions? The Crossroads network can help if you have any relation to the Hinson last name, their primary center of research.
The members of The Crossroads take their genealogy seriously, even in relatively simple posts like this numerical analysis of how many people have to be researched for a complete picture of each generation. You can even find members posting the results of DNA testing they've undergone to trace their probable historic country of origin.
The Crossroads is a great example of fantastic family history research. One look through the forums and blogs offers a wonderful guide to research techniques, from recommended Web sites to a complete chart for determining what cousin and how many times removed you are.
On the other hand, if you are a Hinson, the Crossroads is a great place to meet and share your life with your fellows. Groups include Prayer Requests and Our Pets, where members can show off their fine furry friends, and there are plenty of videos of Hinsons in action, many of them musical!
So put your shoes up at The Crossroads, and you can learn a bit more about your long lost Hinson family members or else get a solid start on techniques for finding your own ancestry.