File it with Box.net Files
Ning Apps
People Profiles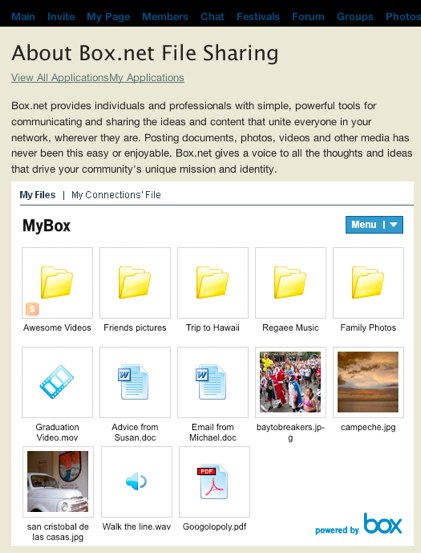 Looking for an easy way to manage, share and store your files online? Add Box.net, an OpenSocial application, to your profile page on Your Social Network on Ning.
Start by uploading documents and creating files. From here, you can instantly share files by making a unique website address and sending this to friends, family and colleagues. You can also collaborate with other Box.net file users to edit and share documents. Keeping your files online means you can access them from anywhere with no downloading. As a file creator, you have complete control over your documents' privacy settings and can easily change them.
Developers Samuel Dehouck and Florian Jourda worked alongside Jeremy Glassenberg to create this easy-to-use online file sharing application. Read our recent interview with Jeremy Glassenberg and get all of your questions about Box.net files answered!
Where did you get the idea for Box.net Files?
While a student at USC, Aaron Levie, Box.net's CEO and co-founder, needed a way to manage his files wherever he was. He worked on a computer at the dorm, at the library and elsewhere, always on the go. He wanted to manage and share his content in a way that was easier than how most people accessed and shared files then and, as a matter of fact, how a lot of people still do today.
Two million users later, plenty of others wanted a better solution as well. Our goal is to make it easy for people to access and share the content that matters to them on any platform, application or device. We saw Ning's platform for creating social networks as a perfect fit for our service.
What is your favorite aspect of the application?
Box.net makes it easy to store your content on the web, but a key aspect to the Box experience lies in sharing and collaborating on content. For us, the important thing isn't the ability to store your files on the Web — it's what you can do with that content once it's on the Web.
Box.net ties in very easily with the most popular Web services. While working in a Box collaborated folder with a team, you can preview documents with Scribd, edit photos with Picnik, or edit documents in Zoho, all without having to download a file. It's a great end-to-end experience that gives users choice.
What was the most challenging part of creating Box.net Files?
According to our developers, Samuel Dehouck and Florian Jourda, integrating with all of Ning's social aspects was a bit of a challenge, as we wanted to leverage all of Ning's various social features in order to help users share and collaborate on content in any way they wish. This includes displaying files on your profile, viewing friends' shared files, or collaborating with specific connections within a Ning network. We look forward to Ning's future enhancements that may assist us in providing additional means of sharing and collaboration.
Do you have any tips for new Box.net Files users?
Experiment! Box.net is feature-rich, secure and reliable, so play around and see what you can do. Try uploading some photos and check out the slideshow feature. Post some files to your profile folder and share them with your network. Try our OpenBox services to view and edit your documents entirely online.
Do you have any upcoming plans for Box.net Files?
We have lots of exciting new features coming soon. We just released our free iPhone app on the iTunes app store last week, and the response has been incredible. We'll be looking at Android down the road as well. Ultimately, we want to provide everyone with an integrated, open experience to access, share and collaborate on their content across the web, mobile and desktop platforms, using the applications and services they like to use. It's an exciting time for us, so we encourage everyone to stay tuned!
Tell us more about yourself!
Box.net is a leading provider of tools for managing and sharing data online. The service enables users to share, access, and collaborate on files of any type from anywhere. Box.net is the first Web-native system for access and collaboration which allows a broad array of functionality. With more than 2 million users, more than 1 million files daily and more than 1,000 developers in the Box-Enabled Network, the service is used by individuals, small businesses and Fortune 1000 companies.