Giving teenagers a Global Glimpse
Ning Network Spotlight
People Profiles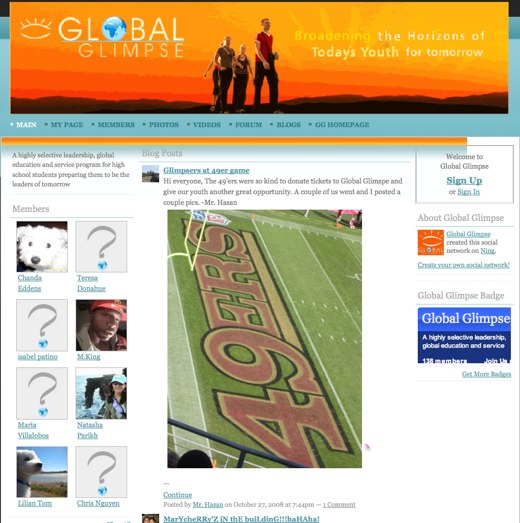 For high school students looking to expand their vision of the world, Global Glimpse, a selective, summer leadership program, offers juniors the opportunity to travel abroad on a three-week service learning project to Central America. Its social network gives participants a chance to connect with each other before the trip, get need-to-know info from past participants and document their experiences for both other participants, and their families back home.
We spoke to Abbas Hasan, the founder and President of the non-profit organization, about how using a social network is helping to engage the programs' participants before, during and after their three-week adventure.
How did Global Glimpse decide to start a social network? How did you decide to choose Ning?
Global Glimpse serves youth and their families and friends spread across many schools and a wide geography. Our students prepare for five months before traveling on a study and service trip to Central America to learn about the world and give back. We wanted our students to get to know each other before they go, share what they learn while abroad with their families and friends back home and finally stay connected with each other after the trip. A social network was the obvious answer and after looking at many options, Ning made is easy for us to setup a Global Glimpse network.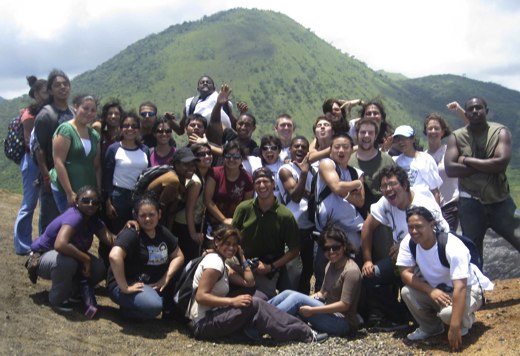 You work with a lot of teenagers and young people. How has the network changed your communication with them?
Our network is most effective in helping teenagers keep in touch with each other and build friendships that spread across the different social circles each of the students come from.
How does the network interact with your organization's general Web site?
We want our network to be seamless with our Web site as just another page on our site. When we are serving and recruiting so many youth we want students to be able to learn about us both through our community site (our network) and through the information we post on our website.
Which areas of your network do you think your participants use the most?
Students use the blog most. It is a chance for them to share what they have learned about the world on their trip abroad to friends and family back home. Also when the students return they are start adding each other as friends to expand their own network
Is it ever tough to run the network when you are abroad on a trip?  How do you stay connected?
Typically when we travel we have Internet access once or twice a week which is when students update their blogs and we upload pics and videos of the local leaders we have met or share stories of the community service work we have done.
How do you see your network growing or expanding in the future?
Our network will expand rapidly this year as we grow to 500 students, 50 teachers and their many many family and friends who connect to our network to keep up to date.