Going Green with Lincoln Green Scene
Ning Network Spotlight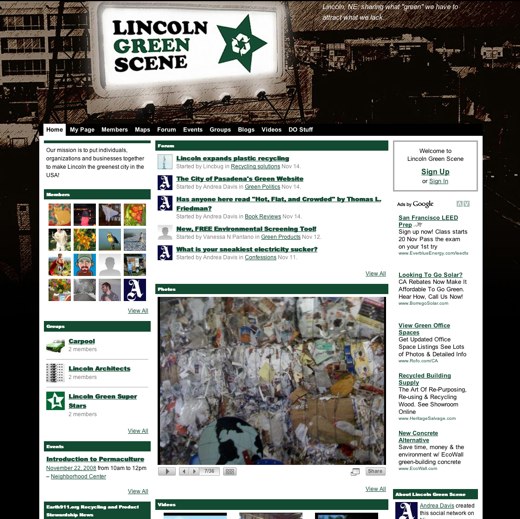 These days, talk of going green is just about everywhere. While we see it in politics, fashion and the news, Lincoln Green Scene uses this challenge to connect the entire community.
The network's mission is to bring "individuals, organizations and businesses together to make Lincoln the greenest city in the USA". Unique features like the map of Lincoln recycling centers and the group for carpool members make it easy for Lincoln, Neb. residents to do their part and make this goal a reality. Not surprisingly, the forum is a great place to pick up green tips. The discussions offer ideas for both business owners looking to improve their green influence in the city and residents researching green solutions. Members also use the forum to post green initiatives from other cities and educate members.
To connect offline, participate in some of the upcoming events. Plans for November include Lincoln Bioneers Gathering and Introduction to Permaculture. If you're a Lincoln resident, there's no time like the present to join your community in going green at Lincoln Green Scene!