Great living on the Central Coast
Ning Network Spotlight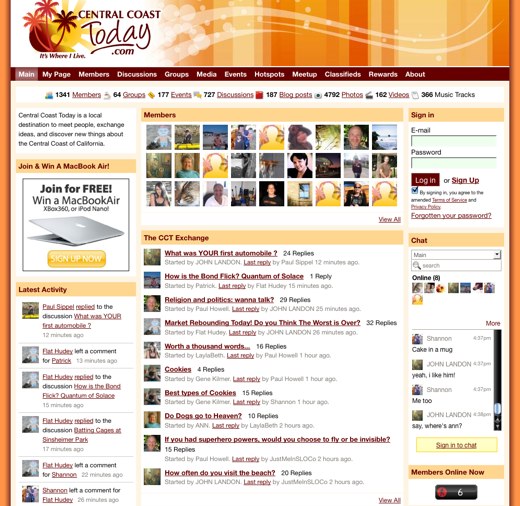 For all you California lovers out there, take a quick break from the beach and check out Central Coast Today. No matter you're age or interests, CCT has something for you.
The best part of CCT is its member-driven content. From the communities to the blogs, CCT is a network where members share ideas, opinions and useful information relevant to all members. The active and thoughtful member activity elevates the network from a niche interest group to an all-inclusive resource encompassing a wide range of interests.
The Hotspots section is particularly impressive. If you're native to the area or just a visitor, Hotspots offers tons of useful information and suggestions regarding the wealth of opportunities and experiences available throughout central California's coast. Whether it's visiting a winery, finding a great restaurant or exploring the nearest farmer's market, the Hotspots section provides excellent member information with an easy-to-navigate interface.
Maybe you thought all central California had to offer were beautiful sunsets, breathtaking vistas and really cute otters. After visiting Central Coast Today you will find out that it has all that and much more. So join today, bust out the board shorts and let CCT help you to plan your journey to one of the most beautiful and diverse parts of America.