Growing a community at Farmers for the Future
Ning Network Spotlight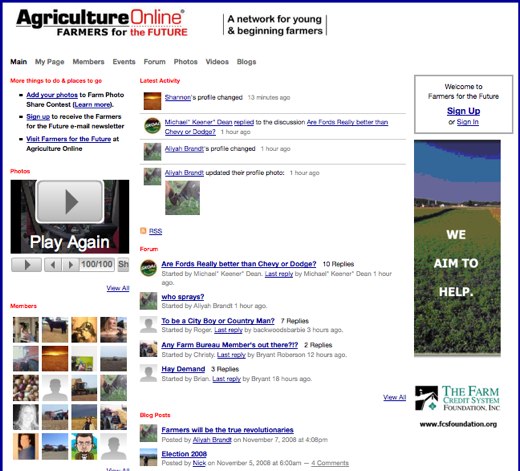 Big agriculture is so 20th century. These days, the hip farms are small, independent farms focused on not only providing quality food, but also frequently sustainability and environmental friendliness as well. If your work is behind a tractor instead of behind a desk, then Farmers for the Future, the network for young and beginning farmers, may be for you.
The farmer-members of the network are using the forum to discuss best practices and offer advice. A hot topic is, of course, organic farming and the use of sprays, both organic and otherwise. Other discussions focus on the business side of farming, like a recent one on challenges in marketing your farms' wares. For those who do actually work behind a desk, the photos section provides a fantastic glimpse at the origins of the food we eat every day.
Just like the seeds they plant, the network's memberships is growing fast. Whether you are an established farmer or just planting your first crop, there's a place for you at Farmers for the Future.