Hook up with fellow web junkies at inSocialMedia.com
Ning Network Spotlight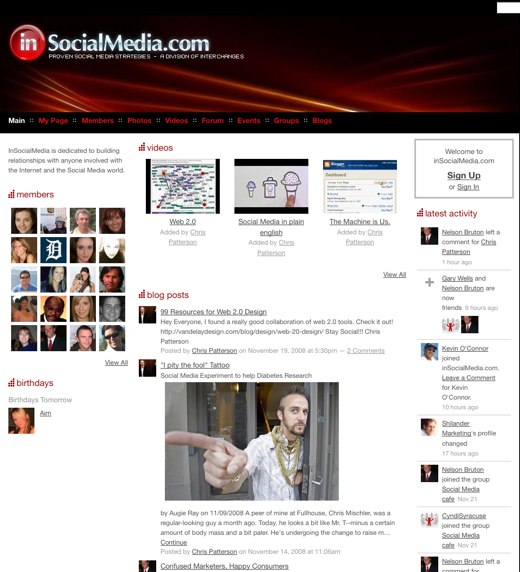 Do you work on the Web? Get teary without Twitter? Dream of Javascript widgets late at night? inSocialMedia.com can help. This handy network offers members everything from a compilation of 99 resources for Web 2.0 design posted in the forum to a nifty little blog post about why to blog in the first place.
The network is so thorough that you'll really feel like your eyes are being opened to a new world and to the Internet's new role in a different, more economically vulnerable United States. Blogs like this one about the use of social networking to replace traditional marketing campaigns and this one about how modern Internet marketing has changed into a dialogue with consumers will give you a unique perspective on the present. I'll bet that after reading you'll feel differently the next time you visit a Web site to buy something!
If you're looking for something lighter, or maybe a place to donate money this holiday season, you can check out this post about a Fullhouse employee who's going to add more stages to an A-Team tattoo for every increment of money donated to help diabetes research. Even this is like an online marketing experiment — we'll see how far the advertising for donations goes, and whether the brave volunteer winds up with a back tattoo of explosions and the A-Team van for $100,000 donated.
inSocialMedia.com is an incredible example of a Web 2.0 experience that's actually about Web 2.0, and full of good information and good heart. For developers and MySpace addicts alike, it's a place to learn, laugh, and contribute.