I'll have it Straight No Chaser, please
Ning Network Spotlight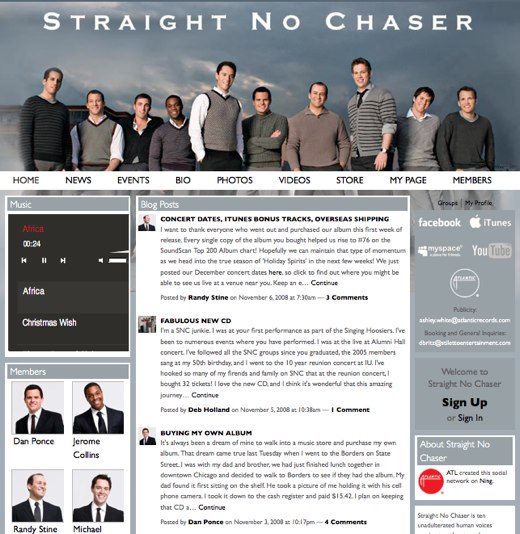 Forget what you know about a cappella from listening to glee clubs in college dorm rooms and student unions. Straight No Chaser is the real deal — talented, funny and even better, always in tune. The 10 members interact with fans, post concert info and blog about the latest group happenings on the Straight No Chaser social network.
It's great to see the different members of Straight No Chaser use the network blogs to reach out to their fans. Randy Stine used his to thank fans for purchasing their new Christmas album and give an update about ways that fans can access a bonus track. Group mate Dan Ponce wrote about the thrill of being able to purchase his own album — a longtime dream come true. Finally Michael Itkoff mentioned the thrill of getting cell phone pictures of the SNC album in stores sent to him from friends and family. Reading what the talented members of the group have to say is a lesson in humility and not letting fame get to your head. Even better? It allows fans to get a glimpse of what life is like for their favorite a cappella group.
With a new album out, and a tour underway, Straight No Chaser is about to head in to the limelight. Say you knew them — and networked with them — back in the day, when you asked for Straight, No Chaser.