LARPers connect at the LARP Network
Ning Network Spotlight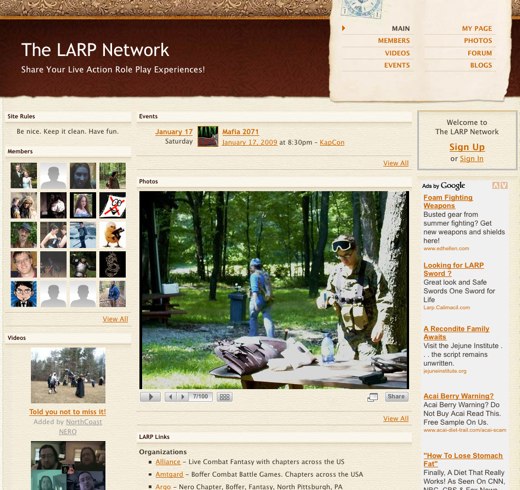 Sign out of Second Life and step away from your computer. If you really want to create a new persona, do it in real life with a Live Action Role Playing simulation. The social network for LARPers is The LARP Network, where members can share their live action role playing experiences!
If you aren't familiar with LARPing, then make your first stop the photos section (a selection of which are below). LARPers regularly take off a weekend to head in to nature to do battle with a rival group of role players. The outfits — battle gear, clothes from a bygone era and even ogres — are time intensive to make, and impressive across the board. How impressive? The stone golem featured in this video took 100 hours and three people to construct. If you are new to LARPing (and constructing a golem is a little intense for you) you can get all your newcomer questions answered in the forum.
Everyone plays some sort of role in their life. When the role you play involved dressing up, fighting and channeling a bygone era, stop by The LARP Network to connect with other LARPers. Do it now, because you won't have a computer with you when you are in the heat of battle, out on the field!