Living the (MyMini)Life
Ning Apps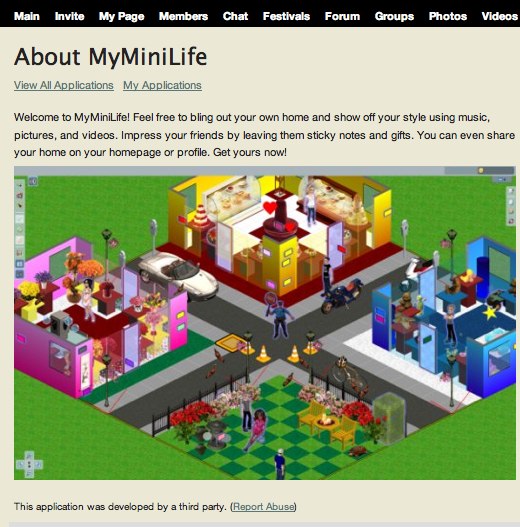 With MyMiniLife, creating the home of your dreams is just a few clicks away! Get the online building process underway by adding this OpenSocial application to your profile page on Your Social Network on Ning.
To start, earn some money for your dream home by inviting friends, visiting the MyMiniLife Web site and buying your first mini item. Once you begin creating your home, the possibilities are endless! You can customize every detail from the floor plan to the lawn to the decor. Check back for "Today's Top Sellers" to update your home. Once you are done, you can throw parties, sell your properties, buy gifts for your friends and even place your friends in your new home.
MyMiniLife was founded by Amitt Mahajan, Joel Poloney, Luke Rajlich and Zao Yang and was recently in PC World Magazine. I had the pleasure of asking Rajlich a few questions about MyMiniLife. Check out his answers after the jump!
How would you describe MyMiniLife in a nutshell?
MyMiniLife is a social play experience that allows people to create their dream home, properties and neighborhoods online. People who use MyMiniLife can create a home, decorate it to fit their mood and express their personality, dreams and desires. Through MyMiniLife, they can interact with their friends and their friend's creations. MyMiniLife is available to everyone, as it is entirely free and does not require a download.
What inspired you to create MyMiniLife?
We originally designed the application because we wanted users to be artistic and creative in creating their personal environments online. When social networks like Ning started allowing developers to create applications using their platforms, we immediately knew MyMiniLife was a great fit.
What is your favorite aspect of the application?
I can create hilarious poses and jobs for all of my friends and add them to my MiniHome.
What would you say to someone who wants to create an application?
There are a few things. In general, it's a good idea to release code early and often. Another important thing, especially when developing on multiple social networks, is to consider other containers while developing your application for your first container. Try to avoid hacking specifics for a container and try to create an abstraction library that handles common functions across the containers.
Do you have any tips for MyMiniLife users?
One exciting feature in MyMiniLife is that users can create their own items which they can put into their homes or list in the marketplace for other users to buy. By selling your creations, you can earn MiniBucks which will allow you to buy more items created by other users.
Tell us more about yourself and where you are from?
MyMiniLife is a small startup based in Palo Alto, California. The core team consists of four founders: Amitt Mahajan, Joel Poloney, Luke Rajlich, and Zao Yang. They have known each other for seven years, going all the way back to college when they were project partners, classmates and friends at the University of Illinois. Since then they have gone on to work in software, hedge funds, and gaming before deciding to start MyMiniLife.