Make some Metal Mayhem
Ning Network Spotlight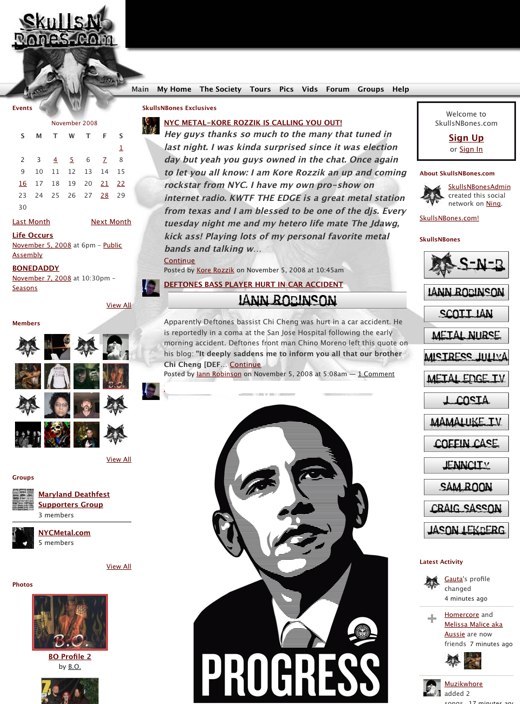 Skullsnbones is your one-stop network for all things metal. In their mission statement, founders Sam, Jason, and Craig envision SkullsNBones as "singular authority" for heavy metal musicians and fans. Having made impressive strides thus far, there is no reason think that they can't achieve their goal.
Perfect for publicizing events, bands and new music, SkullsNBones is easily accessible to hardcore metal fans as well as members, like me, who are not well-versed in metal culture. Start with the main page, which is highlighted by an insightful and informational blog, and explore from there. With an extensive collection of videos, members can listen to their favorite metal groups while sampling new music from other musicians.
SkullsnBones is a also a great way to target up and coming bands to an informed and engaged fanbase. One member in particular, Kore Rozzik, has taken advantage of the forum and blog to publicize his radio show (on KWTF The Edge) and attract local bands to appear on his program. Like Kore, members can  maximize their exposure by posting concerts and videos on the Tours and Vids page.
So stop by, check out the SkullsNBones, and take advantage of this all-inclusive metal resource. Rock on.