Online shopping at its best
Ning Network Spotlight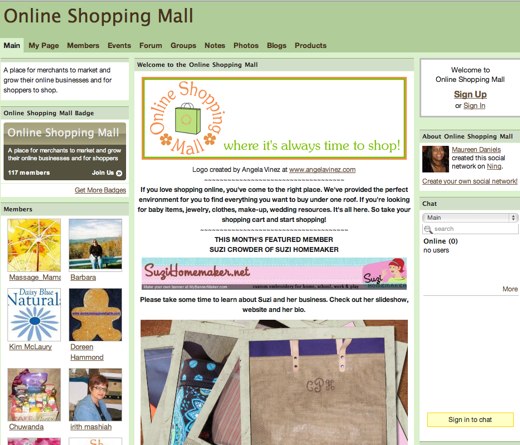 What is easier than window shopping and far more addicting? Online shopping, of course. Who wouldn't love viewing their favorite stores and products at work or at home while making purchases with the click of a mouse! Now there is a new online shopping hot spot. The Online Shopping Mall offers the tips and products you need.
The network is not only a spot for shoppers to shop, it is a great place for merchants to grow and market their online businesses. If you are a shopper, head straight to the Product section. The main page also features a bunch of products and helpful discounts. From candles to cookware, jewelry to make up, a variety of merchants are all in one spot. Each week, a new merchant is featured. The spotlight includes beautiful photos of their work, their bio and some insight into how they got started.
On top of the product and merchant information, the network also has a list of upcoming marketplace and tradeshow events. So the next time you are thinking of heading to the mall, join The Online Shopping Mall, "where it's always time to shop", instead!