Pick and Strum your way to Acoustic Guitar Heaven
Ning Network Spotlight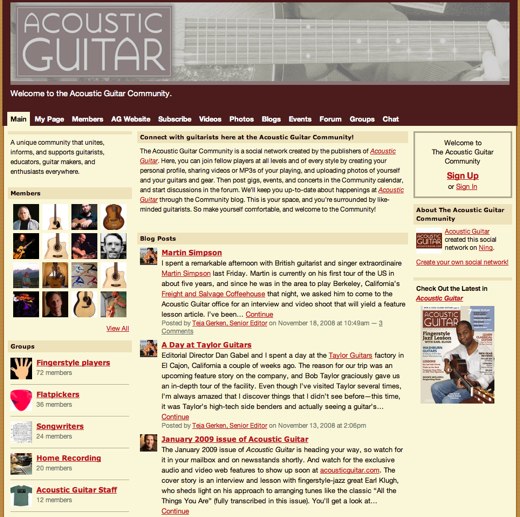 Whether you're a professional musician or you just want to impress your friends on the next camping trip, then it's time to check out Acoustic Guitar Network. Created by the folks at Acoustic Guitar Magazine, the network is a prime destination for all kinds of acoustic guitar enthusiasts. From novices to accomplished professional guitarists, members of Acoustic Guitar Network share insight and instruction to members of all skill levels.
Join one of the groups to interact with members on a more specialized range of acoustic guitar topics, including fingerstyle players, flatpicking and songwriting. Also, check out the videos section for some fantastic live videos from members like Jeff Williams and Steve Perry. As one of the countless weekend guitar hacks myself, I was particularly impressed by the creativity and skills of both amateur and professional guitarists, all of which are on display throughout the network.
The Acoustic Guitar Network offers unique insight into the lives of experienced musicians.
Tim Cheatle, for example, has played guitar for decades and just released his third self-financed album. Larry Allen Brown, a professional musician, offers his own tutorial on basic music theory. As the member-driven subsidiary of a popular music magazine, the Acoustic Guitar Network has the substance and support to be a valuable resource for musicians around the world.
So join the Acoustic Guitar Community, bust out that old acoustic guitar collecting dust in the attic and start jamming out to your favorite tunes.