Pick Up Tara, if you can
Ning Network Spotlight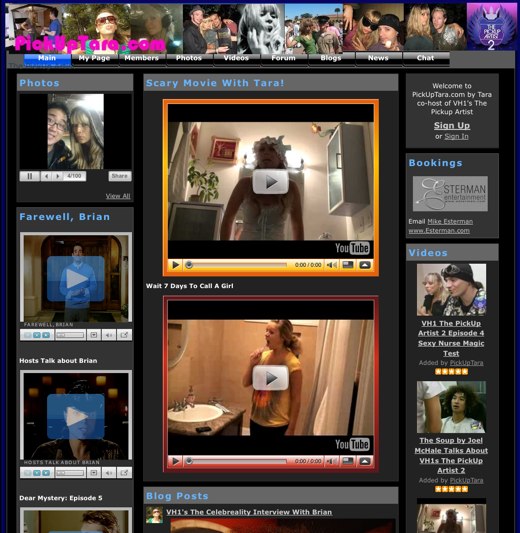 If the words VH1, Mystery and "negging" mean nothing to you, then you've probably never settled in on a Sunday night for an episode of The Pick-up Artist.
The show follows the trials and tribulations of a group of lovable losers as they attempt to learn how to pick up unsuspecting ladies from a trio of "expert" hosts: Mystery, Matador and Tara, who offers a female perspective to the struggling Casanovas. Now you can connect with Tara directly through Pick Up Tara, her own social network.
Not surprisingly, it's the videos that rule this network. Catch up on all the latest Pick Up Artist hilarity by watching clips from resent episodes, like this one where the guys need to stay calm when a sexy nurse is brought in. For Tara's perspective on how to get over a broken heart, you'll want to watch this network video. If you really want to know what Tara — and the contestants — are thinking, make sure to catch up on her blog, where she interviews those who have been kicked off the show and recaps the episodes from an insider's perspective.
Think you have what it takes? Then Pick Up Tara if you can!