Play on words with Linguo
Ning Apps
People Profiles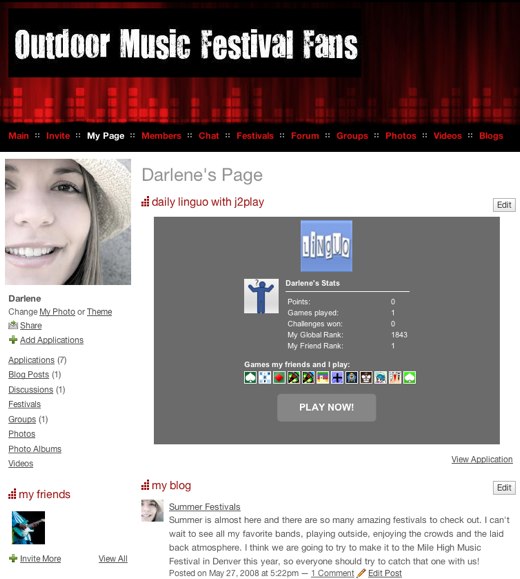 Calling all crossword fans! Take your crossword skills to the next level with Linguo, the crossword puzzle with a twist. This OpenSocial application can be added to your profile page on any of Your Social Networks on Ning.
To start playing, click on the daily board and watch as letters fall into place to create your challenging crossword.  Spell words in any direction then rotate your board to take your crossword even further. Once you have found as many words as you can, your score is tallied and ranked. Linguo features a leaderboard with "Global Top 25" and "My Friends Top 25" rankings. Improve your ranking by going to the "vs. Challenges" section and challenging a friend or online player to a game. To find out more, meet Kasra Zokaei, a producer behind Linguo, in our recent interview!
Where did you get the idea for Linguo?
Our goal is to create the best social experience for people while playing games. We love word games around the office and so do a lot of people on social networks. A word game seemed like the perfect fit to introduce our J2Play Social Games Platform to the wild world of Ning! It's a fun and addictive game where no two people will play it the same way. It showcases a lot of our social features like leaderboards which show how you rank globally and among your friends, badges you've earned that appear in your profile so you can show off to your friends, and challenges which allow you to compete with your friends or even people you haven't met before.
What is your favorite aspect of the application?
My favorite aspect of the application is the constantly growing catalog of new games. Daily Linguo is only one of many games on J2Play, and you can play all of them without leaving the Daily Linguo application or interrupting your conversations with other players.
Hands down, the best feature specific to Daily Linguo is the daily board. The game has a new puzzle waiting for you every day. Think of it as a more interactive version of the cross-word game you get with your daily newspaper which is available where most people hang out these days on the web: social networks like Ning. The Daily Linguo board, combined with the daily leaderboard, gives you instant competition with all your friends.
What was the most challenging part of creating Linguo?
Creating the game itself was actually the simplest part of development. The most challenging part was creating a platform to give players a satisfying social experience. The J2Play platform has literally been evolving for years.
Do you have any tips for new Linguo users?
People who are already good at word games should plan their last few words carefully — there's a big bonus for clearing the board! For those of us who aren't that good in word games (me included) start small and set realistic goals for yourself. Try to improve your skills with every game. Don't miss the selection of other games! With games like Daily Sudoku, Texas Hold 'Em, and The Fancy Pants Adventure: World 2, there's literally something for everyone.
Do you have any upcoming plans for Linguo?
Of course! We're currently working on rolling challenges — a perpetual stream of challenges that anyone can participate in and win in-game credits. We're constantly adding new great games so check back regularly.
About J2Play
J2Play is a small company in Kitchener, in Ontario, Canada. Our mission is to level the playing field for all game developers looking to publish their games on social networks and independently build their business on the social web.