Raising awareness of stem-cell therapy
Ning Network Spotlight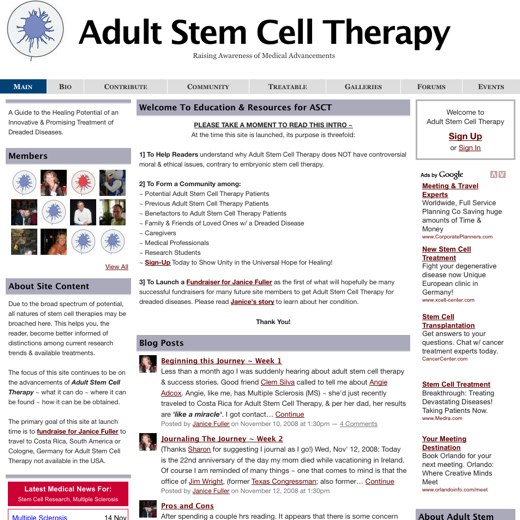 Amid the political debate on stem-cell research, Adult Stem Cell Therapy brings together members affected by degenerative diseases with those just looking to get a well-rounded perspective on a complicated issue.
For the basics on stem-cell therapy, check out the FAQs and read some of the up-to-date research available throughout the network. The blogs, testimonials and groups address the controversial and personal issues related to the stem-cell research as well as other hot-button issues such as cloning.
Janice Fuller, a member of ASCT, has taken a proactive approach to tackling her own personal challenges. For Janice, the issue goes far beyond politics. The "primary goal" of the network, as described by the Network Creator, is to raise money for Janice Fuller to receive adult stem-cell therapy currently unavailable in the United States.
ASCT, as well as Janice's own blog, provide multiple ways to contribute.  If you're looking to learn more about one of the most relevant medical and moral issues of our time, then become a member of Adult Stem Therapy today and, while you're there, consider making a contribution.