Social Action to make a difference
Ning Network Spotlight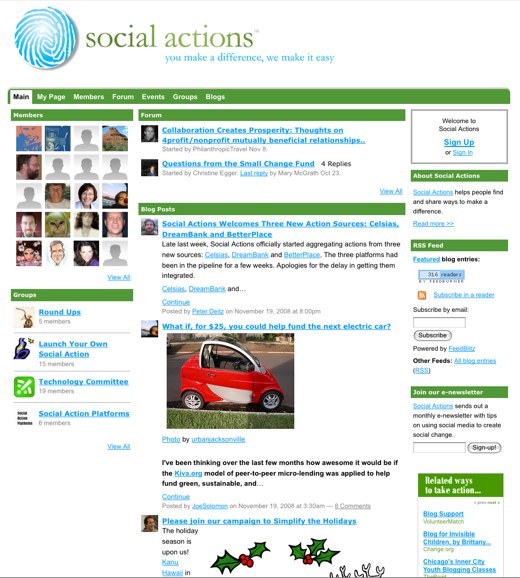 Enough with the excuses. It's time to do something — anything — to make the world a better place. But where to start? Social Actions is an organization that makes it easy to get involved in a cause that's important to you. Its associated social network, the Social Actions network, is the organizations online home for trading ideas, writing blogs and connecting with other socially-minded citizens.
If you want to inspire (and be inspired) to change the world, you can write about it on the network's blog. If you are tired of the commercialism of the holiday season, take a page from member Olin Lagon and simplify your holiday season.
He writes, "Let's use this time of both great hope and great challenges to refocus on the season's deeper values of joy, peace, and ohana (family) by making holiday choices that support and nurture our homes, our communities, our planet—and family budgets, too!"
Social Actions founder and Network Creator Peter Deitz uses his blog to communicate about new company updates, as well as to post more in-depth interviews with some of Social Actions' partners. Other members use the network blog feature to discuss the small yet effective ways that they are working to better their world!
The tagline of Social Actions is "you make a difference, we make it easy." It's easy, it's painless and yes, it's good for our world; make your next action a Social Action.