Spell out the Scramble
Ning Apps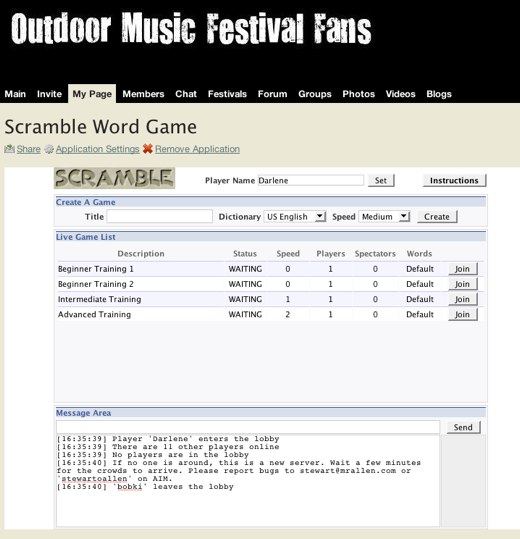 Scramble brings your favorite spelling games right to Your Social Network on Ning.
Add it to your profile page and let the games begin! The object of the game is to collect the greatest number of letter tiles before the clock stops. Not only can you acquire these tiles by spelling out your own words, you can also perform a "steal" where you make a word from tiles in your opponent's previous word.
Scramble games include a dealer (the computer) and up to three opponents. You can also chat with your opponents throughout the game. Not sure if you are ready to challenge your friends? Practice as much as you want with bots until you are up to the competition.
I recently spoke with Stewart Allan, Scramble's creator, to find out more about this OpenSocial application. Check out his interview after the jump!
Where did the idea for Scramble come from?
The idea for Scramble came from a kitchen table game we used to play with family and friends using just the Scrabble tile set. Scramble is a nearly identical translation of that game to the online world.

What is your favorite aspect of the application?
My favorite aspect of the game is the speed of gameplay. That may sound odd for a word-game, but that's also what sets it apart. Also there's the fact that it's almost purely a game of skill.

What is the most surprising thing you have encountered?
Scramble was first unleashed on my friends back in 2000 as a Java Applet. After translating it to a Javascript/XHTML application in 2007, I was surprised with how quickly it spread on the social networks.
How do you see Scramble growing or expanding in the future?
There are more ideas than time for Scramble, and it looks to remain that way for a while. The list of improvements focus mostly on gameplay and building the Scramble community through rankings and tournaments.
Tell us more about yourself!
The die was cast early. Self-taught in basic by the age of eight, I was involved with a local software startup by my junior year in high-school. I have found myself drawn to early-stage ventures for the last 20 years.
About OpenSocial: An OpenSocial application is a feature that you can add to your profile page for fun, communication or business. Add it to your page by clicking the "Add Applications" link in the left hand column, beneath your profile photo. This will take you to the applications directory, where you can scroll through the list of available applications or use the search box to jump to a specific one. Then click on the "Add to My Page" button and and confirm by clicking "Add Application".