Test your writing and podcasting endurance on NaBloPoMo and NaPodPoMo
Ning Network Spotlight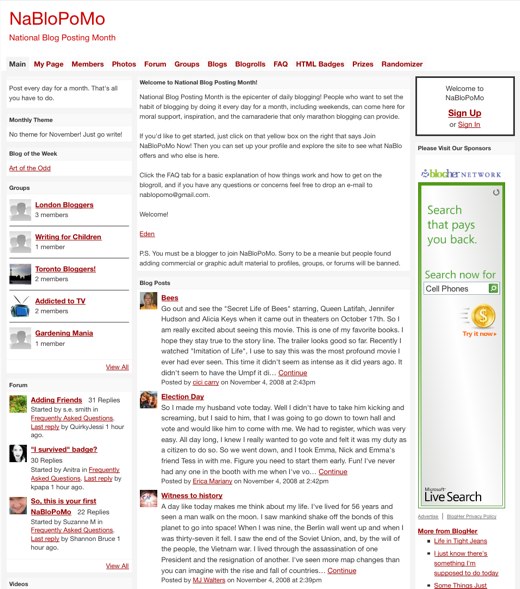 If you're one of those writers whose biggest hurdle is finding proper motivation (or if you're just extremely prolific), the NaBloPoMo and NaPodPoMo networks may be just the place to kickstart your publications. These networks urge you to create and post a blog or podcast once a day for a month.
While the target month — November — is already underway, it's not too late to join in, and the results after just three days are already diverse and impressive. You can find a podcast with an NBA fantasy basketball analysis, a blog arguing against the Electoral College system, and groups uniting bloggers of all sorts, from Etsy Bloggers to a group of moms called "Blogging Keeps Me From Killing My Teen."
Whether your urge to write a blog or podcast is great or small, NaBloPoMo and NaPodPoMo will make it grow and succeed, and you won't find a more supportive group to write with. You can even find posts in the NaBloPoMo forum with ideas for first-timers on how to survive the month! So stop by, read or listen to some of the results, and (be fast!) join in yourself!