The inaugural inauguration tweet-up
Ning Network Spotlight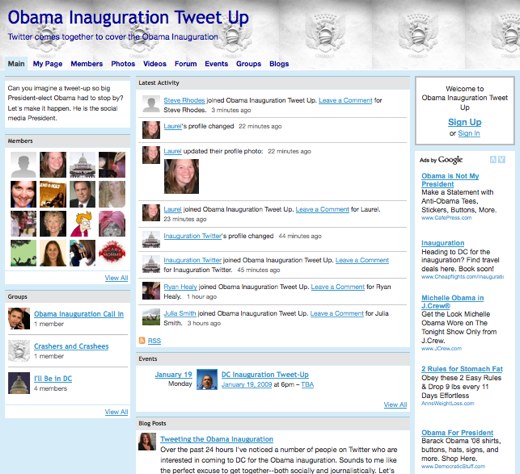 You may have heard the news — there was an election last week. When all the votes were counted, it was, as we now know, Barack Obama who won. Now it's time to start the planning for the Inauguration. Join other tweeters who are D.C.-bound in January (either physically or just in spirit) at the Obama Inauguration Tweet Up social network.
The social network is based around a tweet-up occurring January 19, the night before Obama is sworn in. Network Creator MammaLoves wrote on her blog that the Inauguration sounds like "the perfect excuse to get together — both socially and journalistically. Let's cover the inauguration from our unique perspectives and provide the world with a dynamic view of the inauguration — whether you'll be in DC or not." Those from out of town in need of a warm bed to stay in can join the Crashers and Crashees group to try to find free and local lodging.
If you want to celebrate Obama's election in 140 characters or less, then instead of making your next internet move a reply @, use that time to join the Obama Inaguration Tweet Up.