thebizmo is the place to go
Ning Apps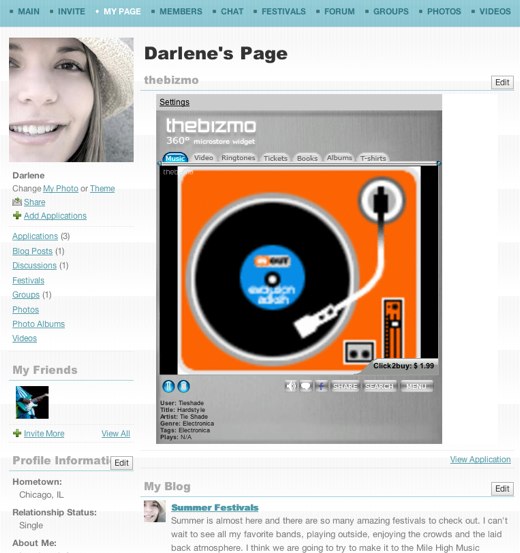 thebizmo is an OpenSocial application that enables members to search and purchase artists' music, T-shirts and tickets right from your profile page on any of Your Social Networks on Ning. After working as a team in the music industry for 18 years, creators Alf, Lars and David started thebizmo. Check out our recent interview with David for some insight into this great OpenSocial application:
Where did you get the idea for thebizmo?
We always felt that artists and creators were in danger of being rumbled once again, in some new kind of monolithic sales system brought about by the slow death of the recording industry as we knew it. We had been preaching this death and its accompanying dangers since the late '90s — even we did not expect Tower Records on Sunset strip to be gone by 2008 — and having worked in the depths of the new digital industry we now considered the following to be an absolute fact. The Internet was only going to give artists and creatives a very small and dysfunctional soapbox to stand on. It was still the big guys calling the shots, and they wanted everything to stay the same.
So we decided that we now had considerable collective knowledge about venture capital, technology, music distribution over the Internet and all the problems we would meet that we should give our vision of leveling the playing field another shot. So we went to work in 2006 to build an application that would enable everyone and anyone to easily display stream and sell almost anything digital(and some physical stuff) from wherever they could paste a piece of flash embed code. thebizmo is the result of that effort.
What is your favorite aspect of the application?
Remember the soapbox reference? Well, thebizmo is not a series of disconnected microstores. All content from all bizmos is available in all other bizmos. This makes for a potential monster sized network of Ning creatives all contributing to each others distribution. In theory every song, picture, ticket, video t-shirt or book ever uploaded to or created on a bizmo on Ning will be available for sale in every store on any network. This is naturally controlled by the store owner, but our experience so far is that people both make their content available to the network and accept that their store has global search activated allowing users to search for whatever they want.
We are specially excited by Ning because the range of activities is so diverse there. Last season we had a hockey club use our ticketing system and sell $60,000 worth of tickets in a few weeks. We were blown away. There was quite literally no marketing at all. Fans of the club had tickets for sale on their blogs etc and generally helped spread the word. So I guess our favorite aspect is that the possibilities are so diverse. thebizmo can be a media and sales channel for any group of like-minded individuals.
It could be a local theater, a ghost-hunting group with unique video footage, a concert venue, a comedy club, sports club, film makers network, artists, photographers — any group that needs a common communication channel and has a variety of digital things to distribute and sell.
What was the most challenging part of creating thebizmo?
The hardest part of bizmo was and is showing people how they can do something not previously possible.  Artists somehow have the idea that they elevate their status by sending their users off their Web page and over to iTunes to buy their music. This is an irrational thing to do both from a business perspective and for several marketing reasons that any Web site employee will understand. But, nevertheless, musicians proudly send the fan packing, if he or she tries to pay them the ultimate compliment in this day and age that it is to BUY their music. The challenge becomes to explain why that might not be the best strategy without sounding self serving.
All the widget companies are forever telling people that they will help them earn money, but none of them have actually delivered on that promise. Most widgets are hardly more than advanced banner advertisements that send the user off to some Web site, where the widget company then bombards you with advertising for all sorts of irrelevant stuff.
We pride ourselves in attempting to do the exact opposite. We don't want anyone's eyeballs. We don't ask for insane amounts of info when you register, just the bare minimum. Most important, we do not lead the user away from the Web page that he or she is on when they decide to buy something unless we absolutely have to.
Do you have any tips for users of thebizmo?
With a new world of possibilities comes new requirements. We make it really easy for people to put stuff on sale, but then the responsibility is on them to actually sell their content. If you are a theater putting your tickets on sale or a filmmaker trying to sell your latest short, you need to have a plan, beyond hoping for a miracle if you want to get your product moving.
Involve friends and fans and do other artists or groups favors by displaying their stuff in your store. Also be creative about what you sell. Mike Peters of the Alarm wrote a whole songbook for his new album that sells for more than the album and sells really well through his bizmo. All it took was a bit of creative thinking to invent a new product that his fans wanted. Most important, keep a tidy page. Having six different YouTube clips and a bunch of banners on your profile page looks muddled and will deter anyone who might be open to your actual message. If you want your fans to buy your tickets make sure that is what they read when they come to your page.
If you succeed in getting one message across you should be proud. trying for two or more is just a waste of time. Stay focused and on message. Closing an actual sale is always going to be down to you and your relationship to your fans/customers. Yet another reason we love Ning.
Do you have any upcoming plans for thebizmo?
Bizmo is committed to expanding its product range and simplifying the user interface on an ongoing basis. We are very approachable and welcome anyone's input, be it good or bad. Lookout for physical distribution made simple and more advanced open social functionality as it becomes available. For the time being, we have to help people who want their own bizmo skins designed. This will also be made easier in the not-too-distant future. Finally, bundling of different items will become available as a common option quite soon. Imagine buying a ticket and getting a free song with your purchase, or buying a T-shirt and getting a video to watch while you wait for the mailman. That kind of thing will be a big part of our near future, this can already be done on request, but is not a commercially available product yet.
Tell us more about yourself!
The three of us (founders Alf, Lars and David) have been a team in various combinations since 1990. We  worked as session musicians, producers, songwriters, sound designers for film. We actually owned a recording studio and soundstage for over 10 years. We sold the studio to get into music distribution on the Internet when it came of age in the late '90s.
In 1998, we built a Web site quite similar to a Ning network, Freetrax.com. Users could upload and distribute music, find friends, vote for each others stuff and generally mess around. In the end we sold the entire system website and all to a mobile operator (Telenor) and went to work for them instead. There we learned all about mobile delivery and billing while the rest of the world was reeling from the dotcom bust. Having converted freetrax.com to a mobile delivery system we were introduced to a gang of intense Americans from Boston who had a new way of compressing music. We went to work for them  taking our system with us.
The intense Americans turned out to become Groove Mobile who to this day are the most successful mobile music delivery service in terms of pure delivered volume. Freetrax was converted to Groove Mobile and kept on developing from there. After working for Groove doing operator deals, licensing music and developing technology until things where well underway we quit and turned to planning our next move.