Tonight's release is live!
Updates
We're happy to announce that tonight's release is now live on your networks!
New Features
Birthdays. We've now brought Birthdays into your network directly as a feature. If you want to show today's member birthdays on your network, simply go to the Features page of your network and drag it in. Choosing this feature will add a Birthdays module to your network's Main page, showing up to 20 members who have birthdays today or tomorrow. In addition, all members with a birthday will have a birthday notification for all to see on their My Pages.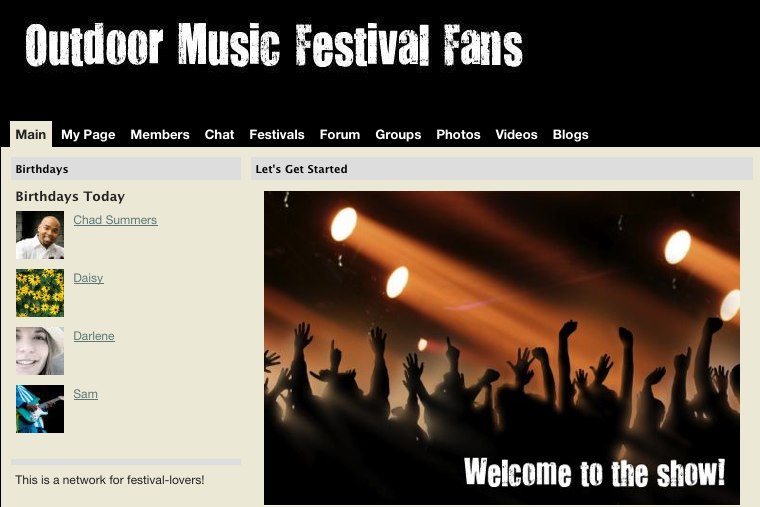 Profile Question Improvements
As part of this release — and in anticipation of Advanced Member Search, which we're currently scheduled to release on Dec. 8 — we've made a number of improvements to how your members provide profile information, including:
"Smart" location choices. With this release, members who sign up for your network and select "United States" as their country will be prompted to enter their zip code. This will automatically supply their city and state, maximizing accuracy and minimizing human error that can make tracking your members' locations difficult.
Integrated Default Profile Questions.Today when a new member joins your network and you've not yet set up any custom profile questions, your network will default to asking for city and state, country and gender. While these will remain the default if you haven't added any profile questions, they will now also be integrated, editable profile questions just like your other questions. This means that you can also set these questions up exactly how you want them. You will only be able to have one field for "gender" and one for "location" in your questions, but this shouldn't shouldn't be too much of an issue and will enable us to offer a rocking Advanced Member Search on your network shortly.
New date field. When utilizing the "date" answer type, you can now choose whether or not to include a year.
Multiple choice displayed in dropdowns vs. radio buttons. Multiple choice questions will now appear as
drop-downs, not lists, saving valuable screen real estate in your profile questions and improving the appearance of one of the first pages seen by members.
Default Images & Themes — Change Once, Apply Everywhere
With this release, when you change the default avatar, which replaces the "gray man" image that comes with your network by default when someone doesn't add a profile photo, it will change the default avatar across your entire network.
Right now, it just changes it for new people, which then means that there are different default images for different people. We've heard multiple requests to streamline this and we're doing so in this release.
Additionally, after this release, if you have the the "Allow members to change their My Page theme" box unchecked on your network — all profile pages will now display the default theme, even if the member had previously customized the page. The customizations are saved, however, so if you decide to allow customizations in the future, the modifications members have made to profile pages will return.
Other Improvements
Content Moderation. Large moderated networks rejoice, Network Creators and Admins can now edit 50 photos or videos at a time instead of 10.
Member Data Export. The file containing your member data will now contain a "date joined" field.
Manage Page. On your Manage page, the "Privacy" and "Feature Controls" pages will be split into two distinct pages.
Network Name. A network name can now have special characters and accents.
Member Approval. Members will be assigned numbers based on when they are approved for membership, not when they initially sign up. If a member is banned, they will not affect the number a new member is assigned.
Please let us know if you have any questions via the Help Center.