Twittermoms: The (online) place to be
Ning Network Spotlight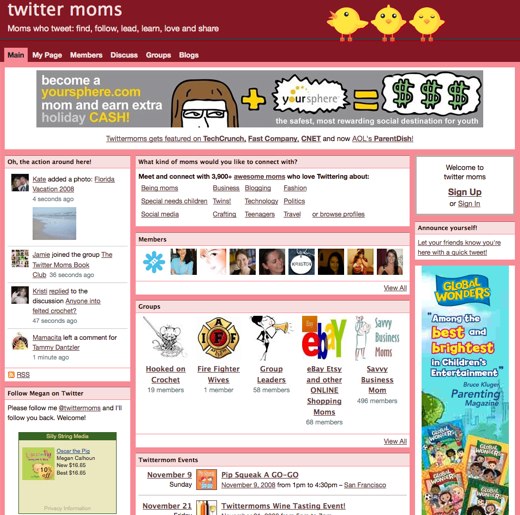 Twittermoms takes online socializing to the next level. With more than 3,900 members connecting within more than 100 groups, Mom's can easily reach out no matter where their busy schedules take them. Twittermoms was recently featured in TechCruch in September for its tremendous growth and ability to connect a twitter demographic.
The network brings moms who Tweet together to discuss just about anything! Recent forum discussions cover politics, holiday traditions, online shopping and work. Members connect further within their groups. Popular groups include Mommy Bloggers, Savvy Business Moms and The Twitter Moms Book Club.
To top it off, there is an award for Twittermom of the Week — with so many active members who update their blogs and discussions daily, this title is quite a feat. To get in on the action, join the moms who do it all (with a little help, support and of course, fun) at Twittermoms!