We Make Zines
Ning Network Spotlight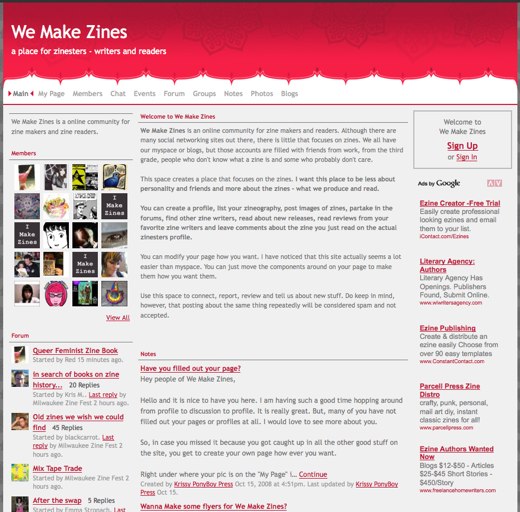 Before everyone had their own blog, Twitter account and Flickr page, the way to express yourself was with your own zine (short for magazine and usually produced via a copy machine at Kinkos). Though it's much cheaper these days to get your point of view across electronically, that doesn't mean zines no longer have a role to play. If you are a zine writer, editor, or even an enamored reader, We Make Zines is the social network for you.
Lest you think zines have gone the way of the 8-track, check out the forums of We Make Zines. The more than 500 members of the network are discussing the zines they make themselves, retired zines they'd like to see make a comeback and the best books on zines. The forums are limited only to specifically talking about zines. The zine culture was — and still is — heavily connected with music, so there are mixtape (er, CD?) exchanges to get involved with as well.
It isn't an either/or. You can publish both online and in print, and the vibrancy of the We Make Zines network (and its associated blog posts) is a testament to the ability of zine authors to thrive in both mediums. If you make zines, or want to start, then take a break from the photo copier, and join We Make Zines!