We Love Capitalism (Recession Edition)
Ning's Tips and Tricks
We believe in social networking for fun or profit. Especially with the hard economic times many of us are facing everyday, there are a few ways to generate a little extra cash from your social network on Ning. With the exception of running your own advertising, all of these options are free to try and probably worth the ten minutes it takes to set up them up.
Here are a few ways you can make money on Your Social Network on Ning, in order of ease:
Run your own advertising
We've built a fast and easy way for you to run your own advertising on your social network on Ning with a credit card and a few clicks. While it does require purchasing one of our premium services, you can try it for a month and, if you can drive more than $24.95 in advertising or sponsorships, it may be worth it to subscribe to this option on an ongoing basis. To give this a try, purchase our premium service to "Control the Ads". To get there, first go to your network's Manage page and choose Premium Services: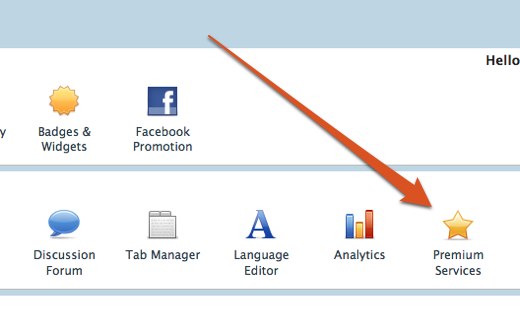 From the Premium Services page, then choose the option to "Control the Ads" and follow the instructions to copy and paste whatever advertising you want to add. While you can use any advertising network that offers you the ability to copy and paste HTML code into your network, Google AdSense is the best known and probably the easiest to get up and running quickly.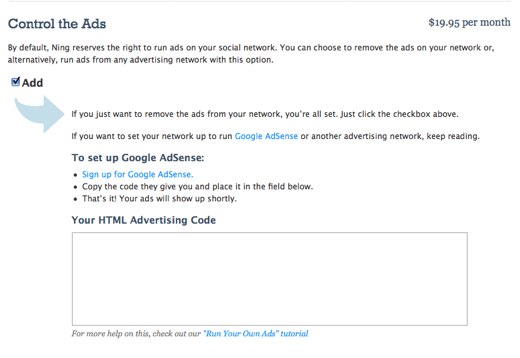 Once you've added the code, sit back, relax and watch the dollars start rolling in. Ok, for many this might be a trickle, but what's important is that it is cheap, easy and may be a great way to earn a little extra cash from your social network on Ning.

Make your social network a paid subscription
This is a bit makeshift, but if you are interested in turning your private network into a subscription-based business, here are the steps:
1. Make your network private with moderated membership on the Privacy & Feature Controls page, which you can get to from your network's Manage page.
2. Set up a payment service for your network. This is done independently from Ning on a service like PayPal or Google Checkout.
3. When people request to join your network as part of moderation, let them know that there is a subscription fee for your network. Since you'll have their email address as part of their network membership application, you can email them a link to the payment service you've set up to collect subscription fees.
4. Once they send in their payment, you can approve their membership application and allow them to join your network.
Our goal is to have something more seamless for this type of subscription social network in the future, but this is a pretty easy way to put this together yourself today.
Sell stuff
While we don't offer a marketplace feature, it's easy to sell products on your network on Ning. You can set up a Yahoo Store, or set-up and sell custom, branded merchandise for your network on Cafe Press or Zazzle. Once it's set up, you can use a HTML Text Box on your network to promote it.
For example, you can create a store at Zazzle for t-shirts and mugs with your network's logo on them and copy and paste the "Zazzle Panel" into a HTML Text Box on your social network. To create a Zazzle Store and associated Zazzle Panel widget, here's the wizard. To set up a HTML Text Box, go to your network's Manage page again and choose Features. Drag the text box from the left hand column and place it where you want it on your network's Main page.
We've also made it possible for you — and your members — to sell items directly through your My Page with the OpenSocial ShopIt application. To add this, click on the "+ Add Applications" link under your profile picture, and then search for the ShopIt application.
It will take a few steps to set up your store on these other services or design your merchandise, but once you do, your members will be able to purchase items directly from your My Page and it won't cost you anything to put it out there.
Ask for donations
Lastly, if you run a non-profit social network or want to see if your members are willing to support the time and effort you put into the network by donating to it, just add a PayPal Donate Now button into a HTML text box on your social network's Main page.
Directions to creating a PayPal Donate Now button are here. Then copy the code from PayPal and paste it in the HTML Text Box you set up. Your Donate Now button should show up in the text and connect people right on through to PayPal. If you want your PayPal button to appear on every page of your network, make sure to add it to the right-hand column.
As you can see, there are a few great ways to turn your social network on Ning as a business or for just a little extra cash on the side. All you need is a great idea a little creativity and the ability to copy and paste.