Young-adult authors rally for Obama
Ning Network Spotlight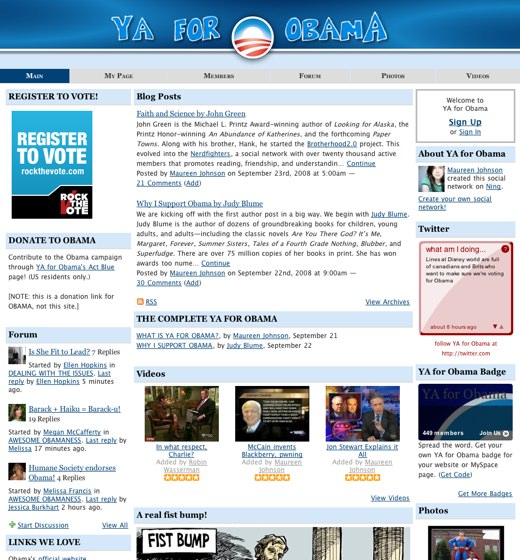 While senators Obama and McCain may still be locked battle for the hearts, minds and votes of many various constituencies, there's one group that Barack Obama has always counted as a strong base of support. Most may not be able to cast a vote, but authors of young-adult fiction have been campaigning hard for Obama on the Ya for Obama social network.
It isn't only young-adult authors that make up the more than 1,400 members of the pro-Obama network: It's their readers, too. Network Creator Maureen Johnson says she started the network simply because many of her friends were both authors and Obama supporters, and she wanted to provide an organized place for them to network.  And when snarky gossip blog Jossip argued that those under 18 years old on her network have no place the political process, she shot back.
"If you are under 18, you can't vote," she wrote on her blog on the network. "That's true. But it's not true that people under 18 have no influence or role." For youth who want to get involved, Johnson suggests going door to door, helping those with mobility issues get to the polling booth, and even working on influencing family members. Old enough to vote, or not, you can always reaffirm your supper of Illinois' junior senator with a trip to the network's Videos section. From Matt Damon to Jon Stewart, it's got the best of the pro-Dem web clips.
Whether you are a published author or just getting started, if you love writing for America's youth and believe that eight years of Republican rule is long enough, then put down your books and writing materials and get started campaigning with like-minded supporters at YA for Obama.
We interviewed Maureen recently to ask her about her experience running the network. Check out the interview below.
Who are you and where are you from?
I'm Maureen Johnson. I'm an author from New York City, and my Web site is maureenjohnsonbooks.com.
What made you decide to create this network?
I'm part of a large community of writers in New York, and we were always talking about the election in every free second. And we are all for Obama. So I thought, you know … if you have all these writers who want to do something, why not make a site where articles can go up every single day? So I did. I sent out the word to see if anyone was interested, and in almost no time, I had over 60 writers on board, people like Judy Blume, Meg Cabot, Cecily Von Ziegesar.
What's its goal or purpose?
Originally, it was to give under-18s a place to talk about the campaign and organize their efforts to work for it. One thing we'd all noticed was that our readers were writing in and saying this was one election they really wanted to take part in. But now we have readers and members of all ages and even nationalities! It's great!
Describe the most surprising thing that has happened on the network.
The enthusiasm. People are really willing to work. Everyone has something to say. No one can just sit back and watch.
What makes the Ning platform well-suited for political networks?
I looked at a number of platforms, but Ning was definitely the best. The fact that people can join and contribute their own materials, talk to each other and make friends … that was the key.
How has your network allowed members to connect in ways that wouldn't be possible without the network?
Well, you get people from all over. We have people talking about what it's like to work the streets for Obama in traditionally Republican areas, people going to Obama events with their families, people talking about the kinds of conversations they get into at school or around the dinner table. People who work for the campaign can give tips and advice. We try to provide good, solid content and talking points. Everyone comes with something.
How can political movements, causes and candidates better use technology and the Internet?
I think you have to accept that the ground rules have changed. Everyone can participate in the media side of things. You want to write an article? Go ahead! Want to make a commercial! Do it!
It's absolutely critical that candidates have to understand the internet and how information travels. I think one of the reasons the McCain campaign is spinning in the wind right now is that the candidate himself doesn't have a grasp on this. You have to know that there are millions upon millions of fact-checkers and commenters out there, so if you say something that really isn't true, a thousand flags will go up at once. It's not so easy to bury or deny things. We're all on the case. So they have to change the plan every few days because the tactics aren't working.
The Obama campaign got this from the start and invited everyone to join in.
What will happen to the network after Election Day?
Hopefully I'll be taking a nap after an all-night party on the 4th. Guess I'll figure it out on the 5th!
What's the biggest surprise we'll see on Election Day?
There's already a lot of evidence that voting patterns are going to be broken and the turnout will be huge. I think it will something else altogether to see it happen. I can't wait.