A chat with OMOM's developer, Metin Kuzu
Ning Apps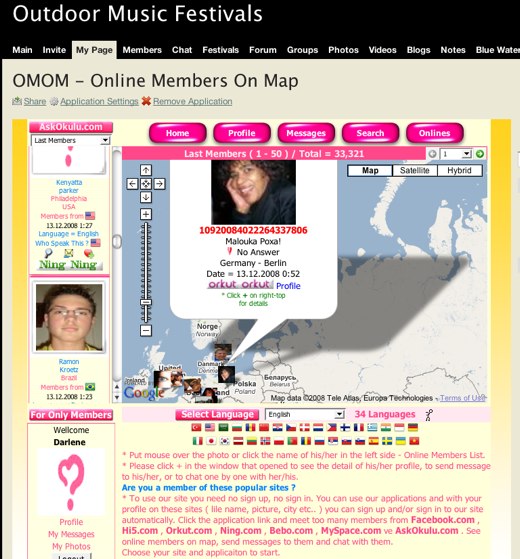 "Online Members On Map" is quickly becoming a popular OpenSocial application. We introduced Online Members on Map last week to highlight its versatility and simple design.
We also spoke with Metin Kuzu, Online Members on Map's developer, to find out more about how OMOM began and where it will go. Check out his interview below:
Where did the idea for OMOM come from?
I have a hosting and design company in Turkey. I decided to start a different project, yet didn't want it to be a commercial or popular site. I looked at popular trends in the world: social networks, OpenSocial applications, Web 2.0, Google maps and so on. I explored the popular sites and applications and knew my application must be different, if I wanted the application to be competition.
What's been the most surprising thing you've encountered?
I did not know that this application would grow so fast. In a week, the application had members from 50 different countries (now 151 different countries).
Any advice for aspiring OpenSocial developers?
Think big and be different. Do not make standard applications like "send a gift to your friends." A classic application can only reach the classic results (I also have classic applications like flash games and sports, but all of them have fewer than 1,000 members). Do not only think for local members, think globally. Also, three-to-five languages are not enough — make it in 34 different languages (Use Google translate to help do this).
How do you see OMOM growing or expanding in the future?
After a month, we have more than 25,000 members. At this rate — about 500 new members in a day — in one or two months, we should have 50,000 members and then the target will be more than 100,000 members. It is simple, useful and liked by the members of popular social networks so it can grow and grow. As we grow, I will develop it and, with new ideas, I can add new features.
Tell us more about yourself.
My name is Metin Kuzu. I was born in Istanbul, Turkey in 1974. I have a hosting-design company in Turkey. I am a computer engineer, and I graduated from Yildiz Technical University in Istanbul.
About OpenSocial: An OpenSocial application is a feature that you can add to your profile page for fun, communication or business. Add it to your page by clicking the "Add Applications" link in the left hand column, beneath your profile photo. This will take you to the application's directory, where you can scroll through the list of available applications or use the search box to jump to a specific one. Then click on the "Add to My Page" button and and confirm by clicking "Add Application".