A Conversation worth having on WAMU
People Profiles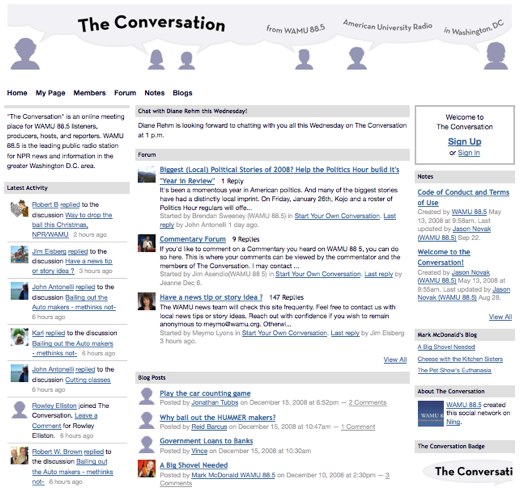 The listeners of WAMU, in Washington, D.C. can turn to The Conversation any time they want to discuss what they've been listening to on their favorite public radio station. The show's staff set up a social network on Ning shortly after Ning CEO Gina Bianchini was a guest on the show.
The Forum is where most of the network interaction is, with members debating recent shows, current events and more.
When last time we checked in with The Conversation, the network has just passed 100 members. With more than ten times that today, the network has grown to become the online hub for discussion of all things WAMU.
We decided to check in with Jason Novak, the community manager of The Conversation. He describes his role on the network as "part guide, part motivator, even part enforcer," and with roughly 20 percent of his day devoted to the network, he knows it better than anyone.
How did WAMU decide to start a social network?
The Conversation emerged from a combination of our news team's desire to incubate a citizen journalism project and our management team's desire to open new avenues of communication with our listeners. We have a small Web team with limited resources, so the primary draw for us to use Ning was that its array of features was available as an "all-in-one" stack — with no infrastructure burden or maintenance headaches for us.
Radio is seen as more of a traditional form of media, with social networking being more modern. How do you see them intersecting?
Radio might be seen as traditional, but like every media organization, we adapt with the technology and the times. It's important to note that we're a public radio station, not commercial, and I think the concepts fundamental to public broadcasting intersect conveniently with those of social networks. At their heart, social networks are all about forging and maintaining personal connections, just as a public radio fosters and strengthens the connections with its local community — connections on which we rely. With The Conversation, we're able to increase our online presence, using a model that we're already familiar with; the personal connection we have with our members.
How have you promoted The Conversation?
We promote The Conversation a couple of ways: On-air mentions centered around specific topics or our monthly chats and through direct emails to our members. We also provide links from accounts we've established elsewhere (e.g., Twitter, Facebook). We do have some evidence that people are coming to our site via other methods, such as search and referrals — not all of our members are local! Quite different from when we launched six months ago.
Do you find that the most active members of The Conversation are also active listeners?
We believe most of The Conversation members are listeners.
I saw that you offer special hosted discussions. Can you talk a little bit more about any sort of special tie-ins you do?
The hosted discussions are a big part of our promotional efforts — we have the hosts of two programs produced by WAMU 88.5 (Diane Rehm, of the nationally syndicated "The Diane Rehm Show"; and, Kojo Nnamdi of "The Kojo Nnamdi Show") visit The Conversation each month to conduct online chats with our members. Typically, the chats do take place after their programs, so we'll see themes from the on-air program carry over into the chat.
What advice would you give to a radio station who was looking to start their own social network?
At all costs, avoid the "If you build it, they will come" mentality. If you don't have a clearly stated goal for your network, and a plan to promote it, you're going to have a difficult time making it succeed. But, more importantly, be prepared to learn from your members. They'll always have something to say.