A little press can make a big difference
Ning Network Spotlight
Ning's Tips and Tricks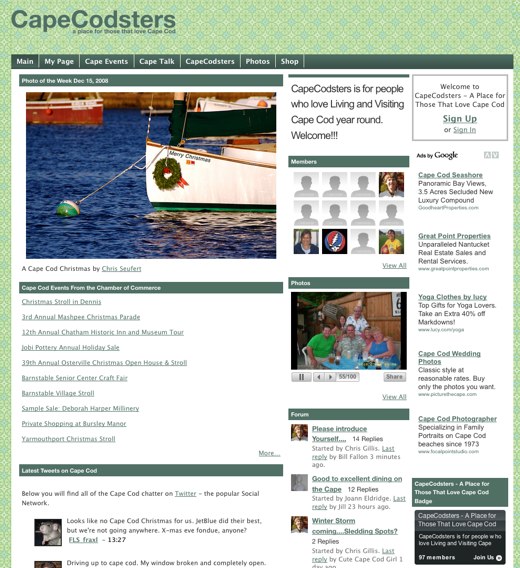 Massachusetts' top vacation area now has a new online home: CapeCodsters social network.
CapeCodsters was created by Chris Gillis, who is about as passionate about New England's beach haven as anyone — and there's few better motivations for creating a network than that.
"I love this region that I live in and wanted to create a space for people that shared the same love of Cape Cod so we could connect, blog, share passions and more," he said. "Cape Cod is an amazing, unique place and I want to celebrate it all."
The network is barely a month old, but it's not only growing quickly; it's starting to garner attention from the media. Just last week, the Cape Cod Times — the Cape's largest newspaper — wrote a story about the network. As the Times wrote,
"I wanted a place where like-minded people could meet up and either blog or talk and make friends," said Chris Gillis, the owner of Saltline Studios, a Web design company in Orleans.

Gillis created the site using a social network platform called Ning, which allows users to create their own online communities according to their individual interests.
In the time since, the network has taken off. As Chris told us, after the article came out, "I saw close to 100 new members — which grew the network tremendously. The traffic has skyrocketed since the article hit."
Spreading the word about your network is vitally important, and the media can you provide you with helpful little bumps along the way. So how do you, as a Network Creator, get press coverage for your network?
If your network grows large enough, it's likely someone in the media or online will take notice. But it helps to be proactive when you're ready for press coverage. In Chris's case, he "sent out a mass email to my professional network here on Cape Cod, and the writer from the article picked up the story and contacted me."
CapeCodsters' future is surely bright, and it's likely the Cape Cod Times' story will only be the first mention of the network in the media.