A world of Mini Cooper lovers
Ning Network Spotlight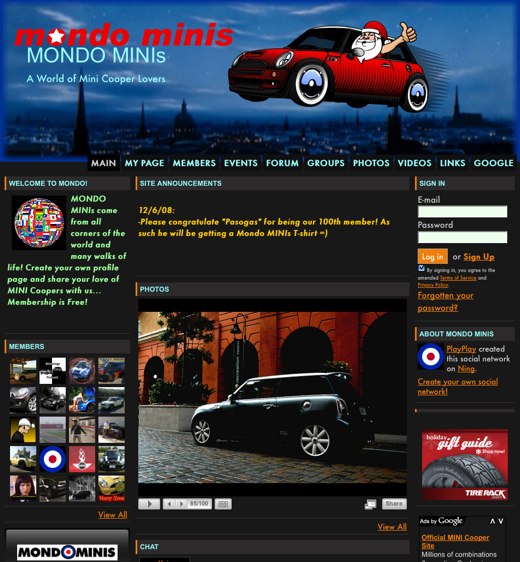 The Mini Cooper is one of the most distinctive cars on the road, and members of the Mondo Minis network firmly believe it's the best. Mondo Minis is about sharing your love for the Mini, from modding to Mini stories.
Mini lovers definitely like to show off their rides, and the Mondo Minis Photos tab has eight times as many pictures as the more than 100 members. The Mini is so distinctive that it begs creative visualizations, and there are shots of Minis around the world, modded Minis, and even custom Mini art. You're sure to find something to make you smile, and there's a warm place ready for your own Mini tweaks or memories.
Mondo Minis wants to share the greater culture of the Mini, too. There's a whole discussion full of stories from Mini owners about how and why they bought their beloved vehicles, and members have organized a special Mini benefit drive for a fellow Mini owner who was recently diagnosed with breast cancer. Mini owners are tight and share a lot of camaraderie, and Mondo Minis is their common ground to meet on.
The Mini Cooper may not have the flash of a Ferrari or a Lamborghini, but Mondo Minis proves that its fans are just as loyal and closely bonded both to their cars and each other.