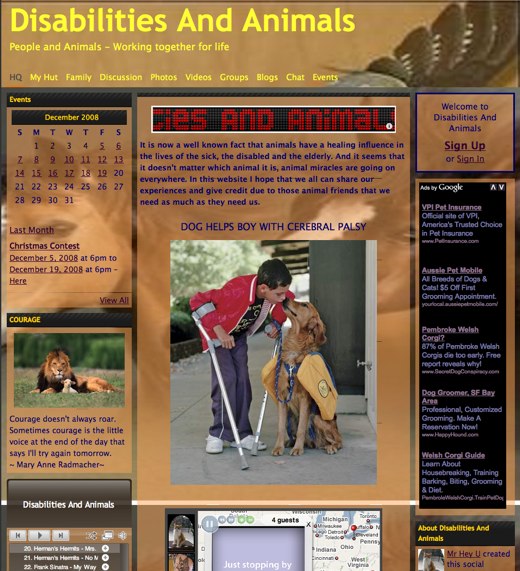 For children with disabilities, including learning, physical and psychological, being able to spend time with a caring animal can make a world of difference. The Disabilities and Animals network is a place for those working with people with disabilities and with therapy animals to connect with each other. The network is more than simply a meeting ground, as the Network Creator Mr Hey U writes "I hope that we all can share our experiences and give credit due to those animal friends that we need as much as they need us."
The picture prominently featured on the Disabilities and Animals main page, or "HQ," as they call it, shows what the network is all about: Animals and people working together. Also worth checking out on the main page? The heartbreaking-yet-adorable images of pets in wheelchairs. For more "aw"-inducing images, stop by the Photos section. Pandas? Check. Dogs and fawns hanging out together? Absolutely. Puppies looking apologetic? Yes, please!
Cute animals aside, animal therapy is a highly effective — and enriching — endeavor for both the people and animals involved. Share your story, or just learn more about what animal therapy is all about at the Disabilities and Animals network.
No related posts.