As Chanukah approaches, learn about Our Hebrew Roots
Ning Network Spotlight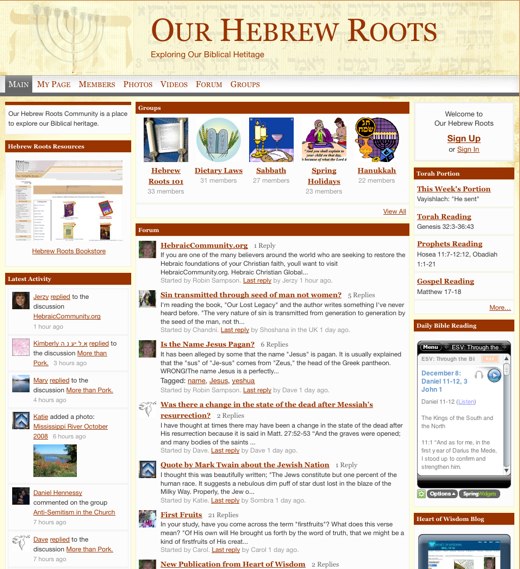 Not everyone is Jewish, but that doesn't mean that the Our Hebrew Roots network can't be interesting to everyone with a love for religious analysis. Our Hebrew Roots is a small, tightly knit network, but consequently it's also a highly motivated one with a clear objective: Taking apart and understanding religious texts!
To keep members involved, Our Hebrew Roots does a good job of keeping things simple and not adding too many extra features. There are no events or chat, and the music player lies unused, but these aren't essential for serious discussion of Jewish tradition. The Network Creator has also taken advantage of the option to approve photos and videos before they appear, which helps keep media content focused and keep members' attention on interaction.
The payoff is a highly active forum, with well-researched posts carefully analyzing scripture. This tight focus is maintained with a widget posting daily Bible excerpts and a cleverly retitled RSS feed with more Torah readings. Our Hebrew Roots exists for one reason, and rather than trying to be an everyman network, it strives to do one thing well and make as many dedicated resources available as possible.
This makes Our Hebrew Roots a great scholarly network. The Network Creator knows what he cares about, and has consciously cut out and limited distractions to keep serious discussion in the spotlight. With this kind of focus, I'm sure they'll soon turn 124 members into hundreds, and so could you!