Become a friend of Colombia at ColAmigos
Ning Network Spotlight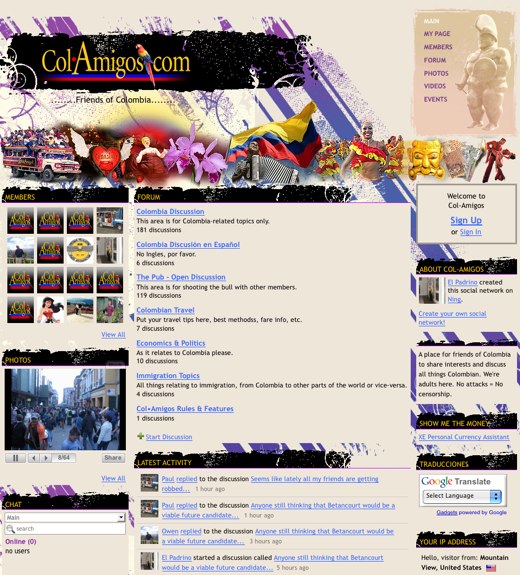 With all the writing that we've been doing about awesome New Zealand networks lately, we thought it was time to give the Western Hemisphere some time in the limelight. ColAmigos, for friends of Colombia, is a great network with which to start.
The Main page represents the mood of South America with a great header than is partly transparent. The Main page's display of the forum is set to display categories, so you're given a front-and-center indication of exactly what topics you can discuss and how popular each topic is. This is a great way to get new members excited and direct them to hot spots.
ColAmigos's Network Creator also created and featured a Rules & Features discussion, to guide interactions and give members a tour of the network right "out-of-the-box". Notice the flow the Network Creator has established from the immediately visible Main Page forum module to an accessible guide to the rest of the network — he's smartly and subtly facilitating involvement.
The flow clearly works, since the forum is hopping, with threads stretching to nearly 50 replies and constant posting on topics including politics both Colombian and American. ColAmigos is a great place to go no matter if you're looking to banter or to have a serious discussion, and its careful design makes sure that it's popular. Friends of Colombia, take note.