Broadcast with UStream.tv
Ning Apps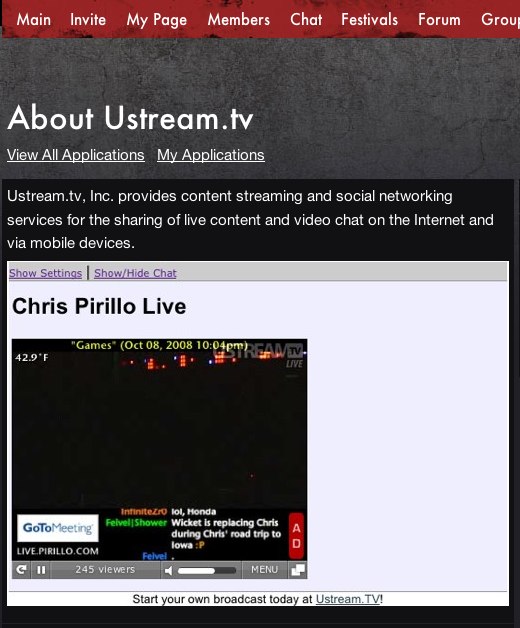 Go beyond offering information and news via pre-recorded video. Ustream.tv allows you to broadcast live video directly from your profile page. If you have a camera then all you have to do is add this OpenSocial application to Your Social network on Ning to get started!
You will begin by creating your own show in your UStream.tv settings. You can use this live stream to personally interact with your friends or other members who are broadcasting. At any moment, you can view which of your friends are on UStream.tv and ready to interact.
By default, you can add photos and videos to your network and profile page. But UStream.tv really takes this to the next level.
In addition to starting broadcast-to-viewer or viewer-to-viewer interactions, you can also explore new and past broadcasts on just about any subject. Use UStream.tv for sporting events, talk shows, conferences, concerts and more. No matter what your network's theme, you can enhance your profile page with UStream.tv!
About OpenSocial: An OpenSocial application is a feature that you can add to your profile page for fun, communication or business. Add it to your page by clicking the "Add Applications" link in the left hand column, beneath your profile photo. This will take you to the application's directory, where you can scroll through the list of available applications or use the search box to jump to a specific one. Then click on the "Add to My Page" button and and confirm by clicking "Add Application".