BuboMe creates the new you
Ning Apps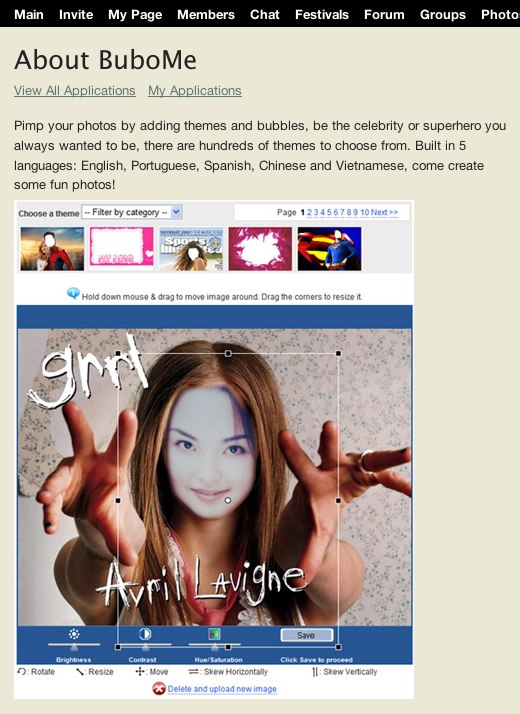 With BuboMe, you can customize your profile photo to be just about anything. If you want to look like your favorite movie star or action hero, add BuboMe to your profile page on any of Your Social Networks on Ning. From Disney layouts to music skins, brand layouts to glitter accessories, the options for your new photo are endless. Once you have chosen your Bubo, you can place it over the photo of your choice. Visualizing your dream life as a celebrity has never been easier!
To find out more about the OpenSocial application, I interviewed Edward Chen, BuboMe's co-founder and CTO. Check out his answers after the jump!
Where did the idea for BuboMe come from?
The idea really came from me browsing on a social network one day and I stumbled upon one of my friend's profiles. She Photoshopped her profile photo onto Mona Lisa Smile. I thought to myself, wouldn't it be convenient and cool if there's a tool that allows people to become someone else without the need and skills to use Photoshop. With a few mouse drags and clicks, you can become a celebrity, superhero or even a cartoon character.
What is your favorite aspect of the application?
There are lots of aspects that I like about the app. My favorite would be the feature where users merge their photos with themes. It allows them to rotate and resize their photo. You can flip through all the themes easily and click once to try on a different theme.
What's been the most surprising thing you've encountered?
There have been a lot of users who became fans of our app: They have a lot fun with the app, create huge numbers of Bubos for themselves and send suggestions for new themes.
Any advice for aspiring OpenSocial developers?
Don't ever give up on your application. Keep adding new features, improving it, take-in users suggestions and keep building it.
How do you see BuboMe growing or expanding in the future?
It has grown exponentially. We are currently getting 10,000 new users per day (including app installs), 2 million users total, 16 million page views per month and we are deploying BuboMe App to even more social networks. Also, currently we are working on a couple of new applications, which will be even easier to use. Plus OpenSocial 0.8 is coming out with RestFul API, which would allow us to build more powerful features that will help BuboMe grow even faster.
Tell us more about yourself!
We are a small team with 3-5 developers. My name is Edward Chen and I am the co-founder and CTO of the company, we own a number of web properties including BuboMe.com, and we specialized in social applications. We will continue to improve BuboMe in every aspect, especially adding more social elements into it, making it more sociable, and we are all striving towards one goal, that the apps we build will be widely used and popular among social networks, that will make us feel rewarded of what we do.
About OpenSocial: An OpenSocial application is a feature that you can add to your profile page for fun, communication or business. Add it to your page by clicking the "Add Applications" link in the left hand column, beneath your profile photo. This will take you to the applications directory, where you can scroll through the list of available applications or use the search box to jump to a specific one. Then click on the "Add to My Page" button and and confirm by clicking "Add Application".