Come play on Match4 4
Ning Apps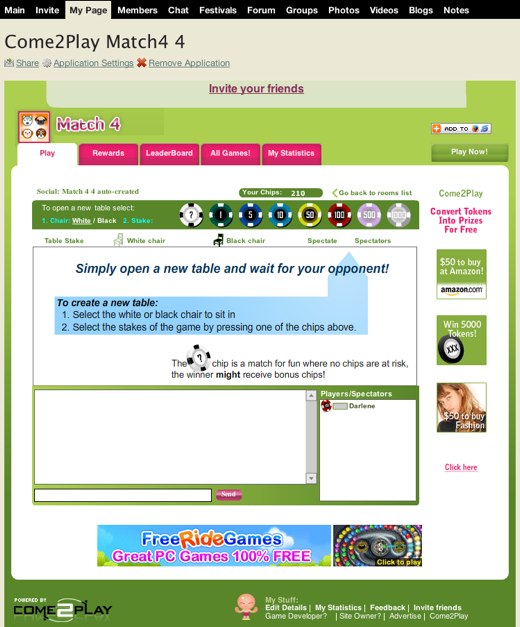 Show off your competitive side with Come2Play's Match4 4, an addicting puzzle game on a grid. Discover for yourself why this OpenSocial application is so popular by adding it to your profile page on Your Social Network on Ning.
The object of the game is to find four numbers in a rectangle before your opponent can. The larger the rectangle you discover, the more points you get. Once you check out the rewards you can acquire with game tokens, you will be playing non-stop! Keeping track of your game records and tokens is easy with the handy "My Statistics" section. Match4 4 also features a "LeaderBoard" to rank players across all networks and amongst your friends.
I recently spoke with Yoni Gerblic from Come2Play to get the scoop on Match4 4. Read his answers after the break!
Where did the idea for Match4 4 come from?
We wanted an easily accessible game. We also wanted to allow users to play simultaneously instead of turn-based (like chess and checkers). We ended up creating a game with cute animal faces that allows users to play simultaneously. This adds to the intensity of the game and, in our opinion, makes is a lot more fun.
What is your favorite aspect of the application?
It's multiplayer gaming! It isn't you versus the computer. It's you versus someone else. Match4 4 is a fun and easy game that anyone can pick up and quickly start playing. The better you get the faster you recognize matches. Games are quick so you can invite friends to play a couple rounds or play against anyone in the world.
What's been the most surprising thing you've encountered?
Users really like their tokens. We added the feature because we thought it would be nice, but people really seem to like betting their tokens on games.
Any advice for aspiring OpenSocial developers?
Always let users know about their friends' activities inside your app. This lends to good virality and use by a group of people quickly. By populating user activity using OpenSocial, you tend to capture people's attention, which in the end helps the virality. If you give the users a good reason to share your app with their friends, they're more than happy to do so.
How do you see Match4 4 growing or expanding in the future?
We're open to new ideas and have launched an API for developers to create new multiplayer games. If anyone has a good idea, send it over and maybe it'll be in our next game version.
Tell us more about yourself!
Come2Play is a white-label platform for multiplayer games. Anyone can easily add individual games or an entire gaming network — which comes with as many game as you want — to their Web site or social network. You can engage your users with cool features like leaderboards, chat rooms,
tokens and rewards.
Our games are a perfect complement to any Social Network on Ning. Get your members interacting with each other through games, there's nothing more fun and interactive than that! You can even monetize the games by adding your own advertising.
To date we have had 56 million matches played across the internet. All of our games are linked together in a network. Player A on one website could be playing against Player B on a totally different website. Now, you don't need the users to have a fully functioning multiplayer game. However, if you do, you can easily create private rooms.
Come2Play is a great solution for any social network that is looking to engage their members more.
About OpenSocial: An OpenSocial application is a feature that you can add to your profile page for fun, communication or business. Add it to your page by clicking the "Add Applications" link in the left hand column, beneath your profile photo. This will take you to the applications directory, where you can scroll through the list of available applications or use the search box to jump to a specific one. Then click on the "Add to My Page" button and and confirm by clicking "Add Application".