Come2Play: A social chess set
Ning Apps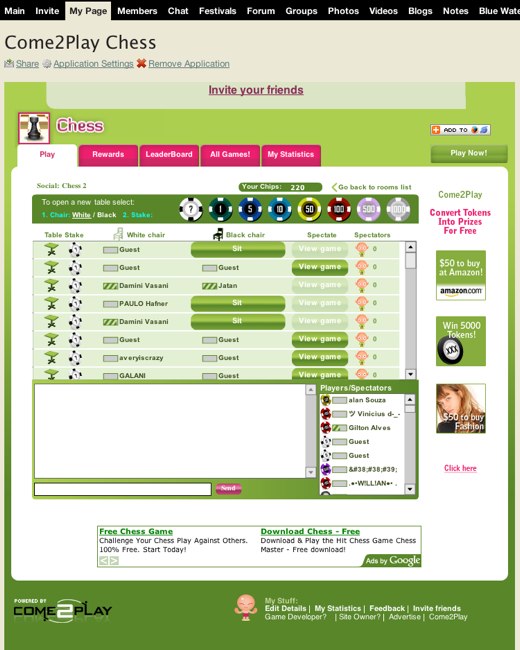 Bring some fun to your profile page with Come2Play Chess. This OpenSocial application can be added to any of Your Social Networks on Ning.
With this OpenSocial application, you and your friends and members can play chess right on your profile page, with anyone in the world who has an Internet connection. With new players joining constantly, Come2Play Chess is becoming a popular OpenSocial application.
Once Come2Play Chess is on your profile page, you can start playing within seconds. You can see a live feed of all games that are starting and in-action. To open a new table, you pick a seat (black or white) and then place a stake. Your stake comes from chips you can earn along the way from joining, adding friends and, of course, winning games.
Fellow chess players can then join your game. Or, if you're just starting out and want to watch some great chess moves (and not risk your chips!), you can sit back as a spectator to pick up some skills. For each game, there is a built-in chat for an even better online chess experience.
When you are not playing, you can check out the rewards your chips can buy, keep track of your statistics and compare your results on the leaderboard.
Come2Play was also featured on the Ning Blog for their other OpenSocial application, Match4 4.  Both of Match4 4 and Chess are great additions for some gaming fun.