Daryn Kagan shows the world what's possible
Ning Network Spotlight
People Profiles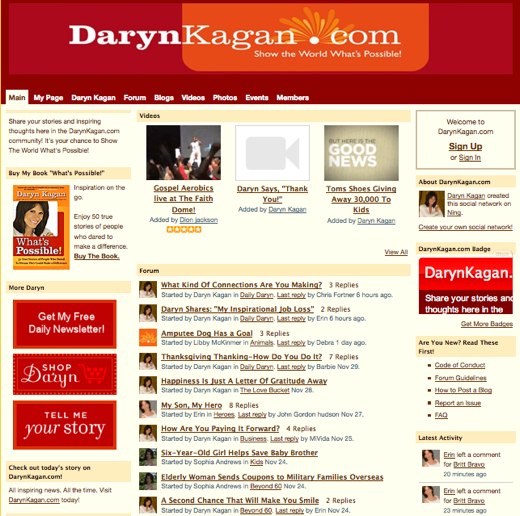 Daryn Kagan is known for sharing inspirational stories of all types on her Web site. What she discovered, however, is that a traditional Web site is a one way street — people can read the stories she chooses to highlight, but can't share their own. With that in mind, she decided to create a social network to accompany her traditional website. We chatted with Daryn about choosing to make a network, what she's learned since and the advice she'd offer to aspiring Network Creators.
Why start a social network? And why Ning?
About two years ago I created DarynKagan.com, the Web's one-stop destination for inspiring news. Every day I post stories that fit the theme, "Show The World What's Possible!" It's been great to be a content creator, but I was feeling I needed to add some interactivity to the site. I came to realize that folks didn't want to experience inspirational stories, they wanted to talk about them and share their own stories, as well.
My first stop was my Web design company. They showed me some functionality they could add. They also wanted to charge me many thousands of dollars for a site re-design and add on to my monthly hosting fee by hundreds of dollars.  Before I signed up for that, a friend, Cami Walker of givingchallenge.ning.com, introduced me to Ning. She showed me that I could create even more than I had imagined for free or even take in revenue with my own ads. At that point, it was a no-brainer.
Your traditional Web site focuses on inspiring stories. How do you see your network interacting DarynKagan.com?
My network is now the place where DarynKagan.com fans can discuss stories they see on the site, share their own inspiring stories from their own lives, post their own photos and videos they find on the Web. I'm already finding that my network directs more traffic to my traditional site and my traditional site directs traffic to my Ning community.
What's surprised you in the weeks since your network has launched?
For two years, I've been able to look at stats, like number of visitors or number of clicks.  Now, when I look at my Ning members page I see all these faces looking back at me. Really brings what I do to life. It's also great to hear the voices of people who are enjoying my content. I've been surprised how quickly this one community has spread around the globe. Just within the first few days, I saw new members from all across the US, Canada, South Africa, Australia and French Polynesia!
What types of stories have your members contributed?
My members are contributing beautiful stories! Some are their own personal stories they want to share with the world. Like Erin Monahan who wrote "My Son, My Hero." It's about her baby boy, born with a heart defect. A true fighter who in his short life changed Erin's life and her heart forever. I believe it's impossible to read that one without crying and being moved.
They are creating great discussion topics like "To Whom Do You Give?" [It tackles] that challenging issue of how do you decide which charities to give to. And they are finding inspiring stories out in the traditional media that they want to share with other members. Stories like the 73-year-old woman who has adopted 18 children and is about to adopt two more.
What advice would you have for someone who wanted to start a network based around inspiring others to live a better life?
I would simply advise them to act from their heart and their authenticity. I have found in my case, and the stories of the inspiring people I interview everyday for DarynKagan.com, that when you find your purpose in life, especially when it has to do with putting good back in the world, everyone and everything you need will show up to make that happen. It's the opposite of the school of hard knocks. I see it happen over and over again.