Do People Really Want a Social Network for WD-40? Ask The Last Straw
Ning Network Spotlight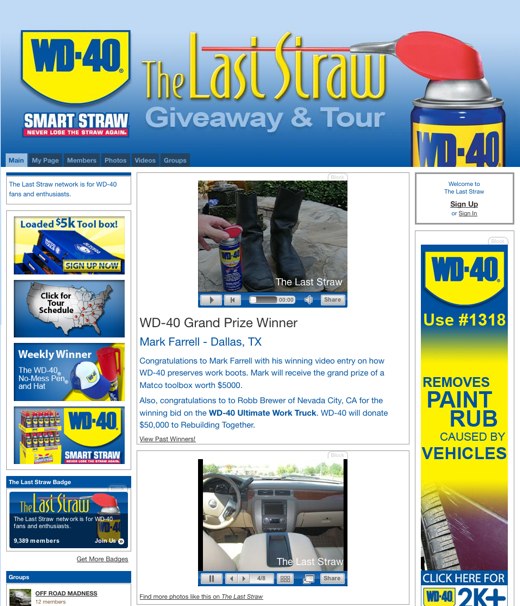 We often get the question, "do people really want to join a social network around a specific product?"
While it certainly works better for some products than others, if you are looking for a great example of a less-than-obvious product social network on Ning look no further than The Last Straw from WD-40. With close to 10,000 members, The Last Straw is a pretty interesting experiment in product-specific social networking.
The first thing you notice on hitting The Last Straw's Main page is the simple, effective design. The focus is on photos and how-to videos, definitely reinforcing the data we have on what makes a social network successful. The dynamic custom ad on the right takes advantage of one of our most popular premium services, the option to remove our ads and replace them with your own.
The Last Straw also prominently displays an embedded video on the page; it's the winner of many entries in a contest series designed to find the best use for WD-40. Of course, providing groups to hang out in will also keep members coming back.
The only recommendation we'd give The Last Straw in making their network even better is around the profile questions.
On your own social network on Ning, you as the Network Creator can customize your own profile questions. This is a very good thing, as it enables you to ensure your network's member profile pages are uniquely customized for the topic and purpose of your social network.
That being said, The Last Straw sign up process asks questions to which they already have access to answers automatically by the very act of creating a social network on Ning. They also exceed the general rule of thumb of no more than five required questions to get people smoothly through the sign up process.
Here's the sign up process today: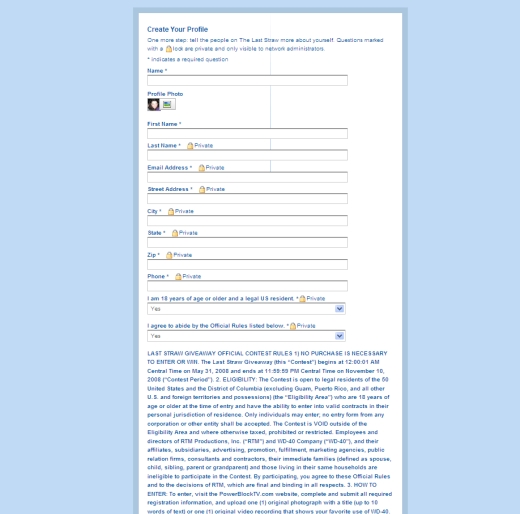 As you can also see, while they should definitely make the rules for their contests and promotions available, perhaps a better solution would be a link off the the profile questions page to see the fine print vs. putting it directly in this flow. This would push the sign up button higher up the page and likely increase the conversion from someone filling out these questions and joining The Last Straw.
If this network for WD-40 has close to 10,000 members with a sign up process that could be improved in a few minutes with minor changes, just how big could a social network could it get? It is certainly a good example of the naysayers being wrong.