Federal contractors take to social networking
Ning Network Spotlight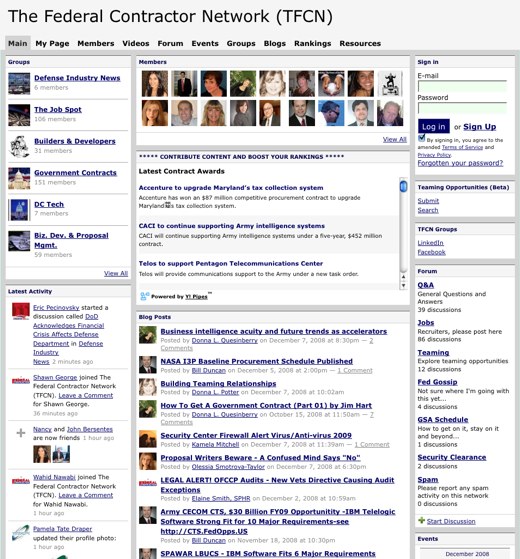 There's a lot more to government work than a decent paycheck and great benefits, but The Federal Contractor Network can help you get even more of your federal employment! This network pulls out all the stops to make information available on jobs, contract news and finer details, like security clearances.
The Federal Contractor Network makes a point of highlighting the common issues that you're likely to encounter as a contractor. A listing of groups is made immediately available, where you can find employees or jobs, share experiences with others involved in construction and development, and set up contracts with other companies. The groups page was well designed to cover all the bases, from healthcare to security.
Of course, the groups aren't all. Members have access to a wonderfully rich array of blog posts, with well-thought out presentations on proposal writing, trends in IT discretionary spending and plenty of other quite advanced topics. TFCN doesn't sacrifice in-depth content for easy reading, and this no-holds-barred approach has earned the network almost 3,500 members who are serious about learning. Of course, even they can't always be serious.
The Federal Contractor Network has been hugely successful because it makes a point of offering strong, detailed content that's readily accessible to members. Sometimes, it pays to go simple, but for a network focused on employment, particularly in IT, TFCN proves that the best path is the thoroughly documented one.