Feel the magic in the air at Club Magicians
Ning Network Spotlight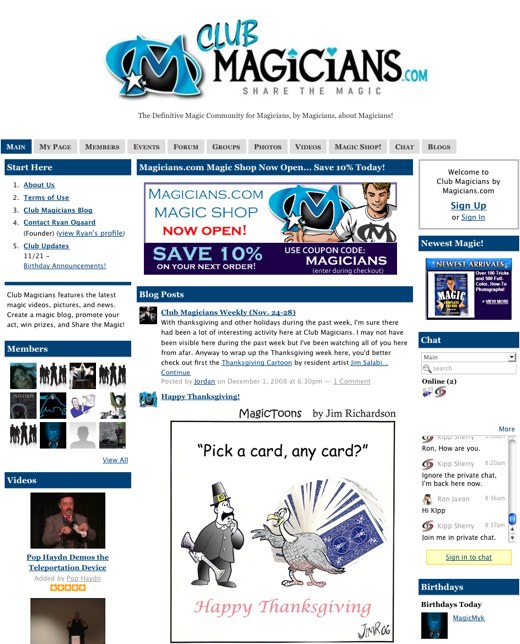 We last wrote about the Club Magicians network almost 10 months ago, back when it was just called Magicians.com, and it's amazing how much has changed and grown along with the snazzy new name. The member count has gone up by a factor of 10 to more than 1500, and there's a great new look. We blame the constant care and attention of Network Creator Ryan Ogaard, who still shows up in Chat to help his members.
Of course, a few innovations help, too, like front-and-center advertising for Magicians.com's new magic shop, including a discount for having visited the network. There's no better way to say "I'm for real" than to say "I've got a real business." Also, take note of how Ogaard has drafted a member to post weekly updates on what's happened on the network — it's a great way for members to keep informed and provides a drive to post content and get mentioned!
Even with the new features, Club Magicians remains successful above all because it's retained its focus on great core content. New videos with fancy new tricks and demonstrations are posted regularly (there are now more than 350!) and active groups exist for various trick types, like a fantastic group on the Business Side of Magic with a step-by-step guide to get started as a magic professional.
Club Magicians is at the top tier of Ning magic world for a reason; it's not just magic! Ogaard has kept the content and support flowing, making it ever more accessible and stylish, and he's an inspiration to us all.