Find a new life at Jobs in Social Media
Ning Network Spotlight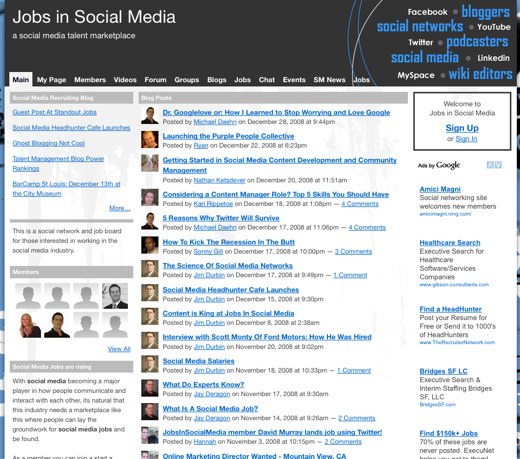 The Jobs in Social Media network was created to help workers in the social-networking industry connect with top jobs. And where better to find jobs and employees for the industry than on a social network on Ning?
Members have put together some great content. There's a hand-animated video introduction to Twitter, and a hilarious video comic about Social Networking Wars. Even with the focus on employment, it's clear that social media is a field that welcomes plenty of humor and that network members aren't afraid to enjoy themselves with each other.
Of course, there's more serious thought, too. You'll find a blog full of insightful posts on subjects like necessary skills for content mangers and getting started in community management. Blogs on Jobs in Social Media are particularly interesting because posters often link to their own, larger outside works — just posting is a means of self-promotion that employers might see.
So, Jobs in Social Media comes out as a hybrid network. On the one hand, it's a serious place matching members directly with jobs, and on the other, it's a place for posters to gain exposure and share the fun of social media.